Plan and Prepare
Hidden Hankinson
Leave From

Return to

Duration

Availability

Suitable for

Groups, Couples, Families
Off the beaten track and further than any tour bus could ever go. Cruise on Lake Te Anau, visit a hidden lake, trek through the bush & explore the oldest hut in Fiordland National Park.
Well visited by our family, Lake Hankinson is our favourite place to go and escape in Fiordland. But we also reckon it's a place that's too good not to share. Your journey begins with a 40-minute boat ride from Te Anau Downs across Lake Te Anau. We're heading deep into Fiordland National Park for access to a wilderness area few visitors get to experience.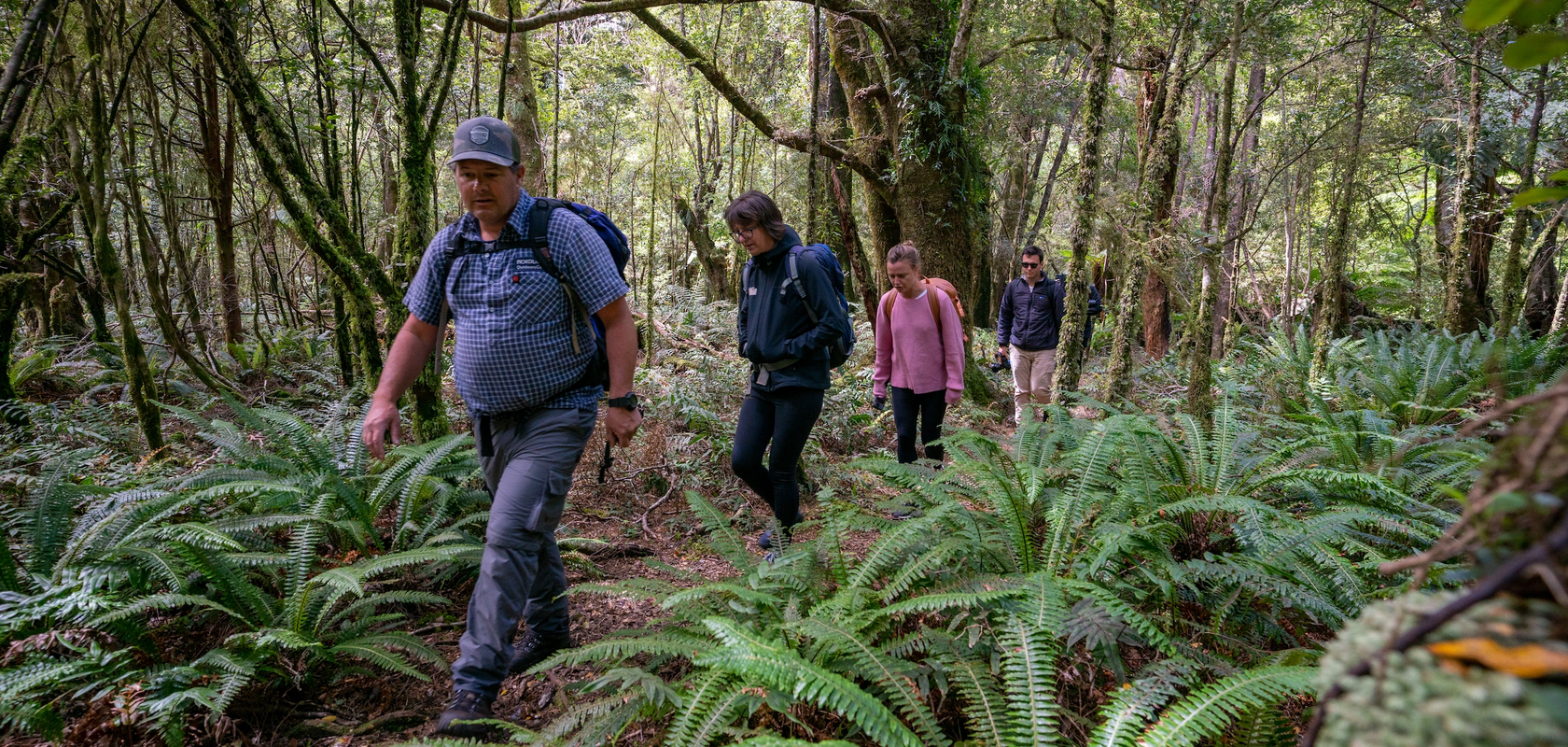 Discovering the hidden lake
There are no tracks, roads, or clearings here - this is pure, remote Fiordland.
Departing Te Anau Downs, take a boat ride across the South Island's largest lake, Lake Te Anau for a sense of how big Fiordland is. From here, it's a short walk through the beech forest to find the hidden lake. Don't expect a sealed path here; it's a short, moderate trek through the Fiordland bush. Arrive at our hidden boat shed for your first glimpse of the glacial lake that time forgot, Lake Hankinson.

Jump aboard a second boat and venture further into Fiordland with a boat ride up Lake Hankinson. As the bush clears, spot the oldest remaining hut in Fiordland National Park, Hankinson Hut. Built in 1928, the hut is rich with history and the stories of adventurers, deer cullers, and those seeking escape. Stay awhile and soak it all in.
The clear waters of the Wapiti River flowing past the hut may entice keen anglers, or you may simply take a moment to appreciate the immense ecological system that is Fiordland National Park.
Highlights
A full-day adventure to a remote and rarely seen part of Fiordland. Very few people visit this remote location – enjoy incredible nature-spotting.
Discover a hidden lake deep within Fiordland, inaccessible by road or walking track.  
Experience two return boat rides and a bushwalk. 
Explore Fiordland National Park's oldest hut. 
An intrepid experience made easy with a local expert as your guide.
Perfect for anyone looking for a true kiwi adventure, including families with children.
Book Lake Hankinson Experience
FAQs
The hike over the hill only takes about 25 mins and achievable for most people. We aren't in any hurry and can take our time.

We are away for 7 hours so we recommend you do bring something with you, along with a day pack and water bottle. Add the picnic lunch to your booking and we can take care of it for you.

The drive from Te Anau to Te Anau Downs takes approximately 25 minutes and there is free car parking.