Plan and Prepare
Fiordland Fishing Transport
Leaves From

Return to

Duration

Availability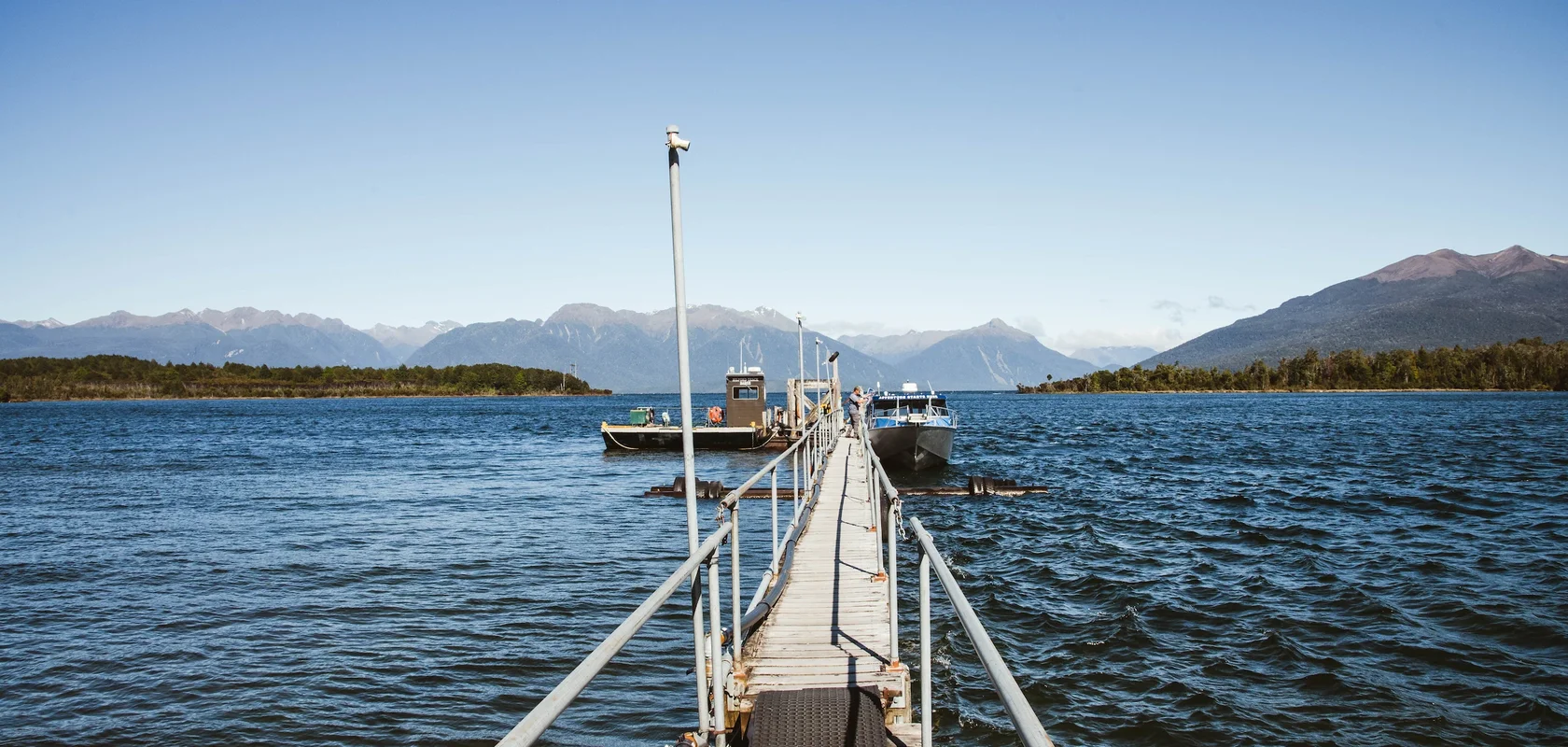 Fiordland Wilderness Fishing
This is the trout fishing people come to New Zealand for; backcountry, remote and stunning scenery in every direction. Expect gin-clear waterways offering outstanding sight fishing for mountain river bred brown and rainbow trout.
Utilising our custom-built water taxi, you can access Fiordland's unpressured and exceptional fishing locations. Built for comfort and with plenty of room for gear, the water taxi gets you across Lake Te Anau or Lake Manapouri for intrepid wilderness fishing.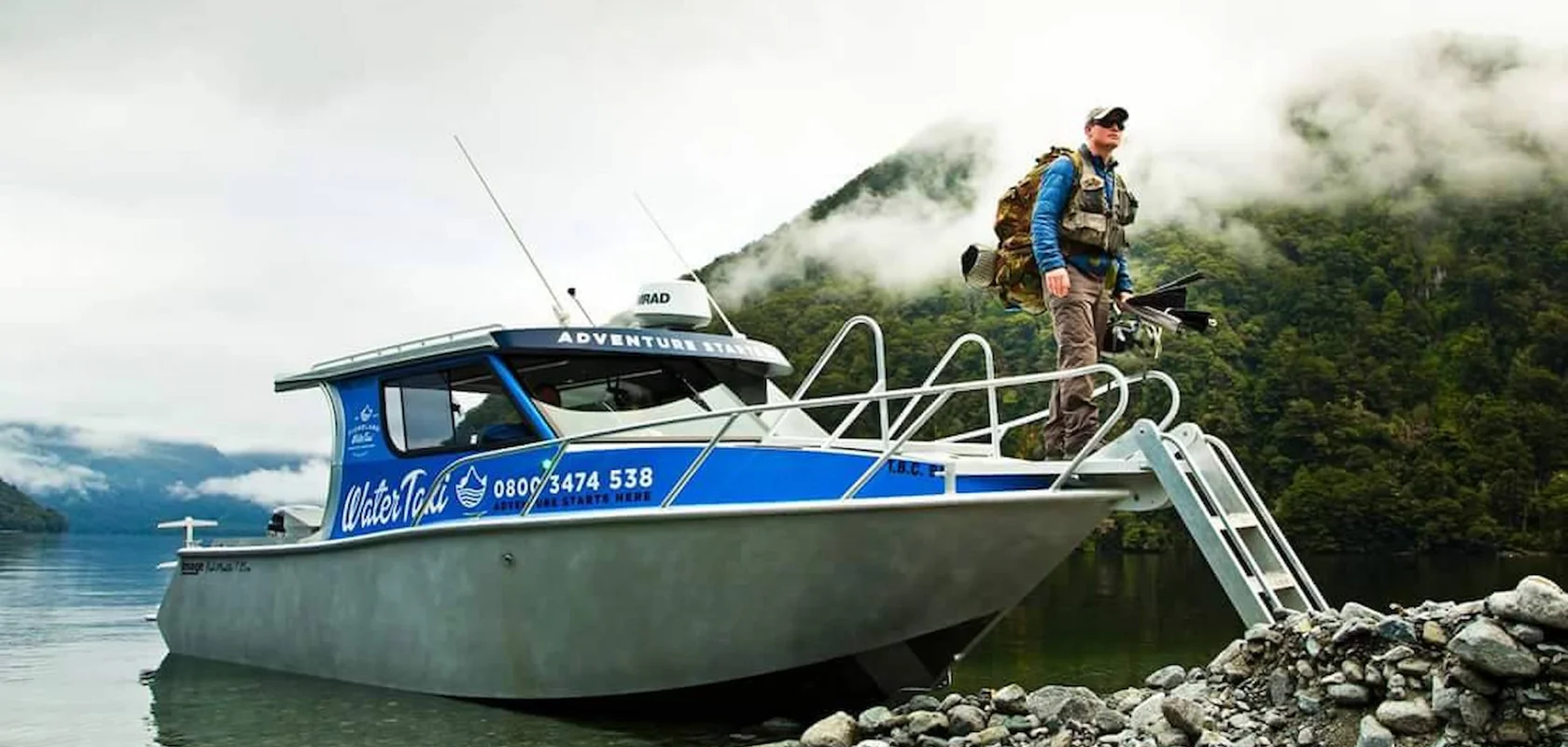 Fishing in Fiordland
The fishing season in Fiordland runs between 1 November and 31 May. During the season, anglers can enjoy exceptional fishing conditions in unpressured waterways around Fiordland National Park.
Some of the most popular locations for wilderness fishing in Fiordland are the Worsley River, Clinton River and Glaisnock River, as well as the many tributaries around lakes Te Anau and Manapouri.
Glaisnock Wilderness Area
Experience truly remote Fiordland trout fishing in the Glaisnock. Catch the water taxi from Te Anau Downs and stay in the Glaisnock Hut for a genuine wilderness fishing experience. The Glaisnock Hut has 12 bunks, and you will need to get hut tickets from the Department of Conservation before you go.
Access to the Glaisnock River for fishing is on a charter basis. Prices start from $540 for a one-way transfer (up to five people) We will always try to combine your pick-up or drop-off with other loads wherever possible to reduce the price.
Worsley River
The Worsley River is controlled by a Fish & Game ballot system. The Worsley River Hut is an excellent place to stay and explore the incredible fishing experiences in the area. The hut has 12 bunks, and hut tickets from DOC are required. A good option is to fish up the Castle River (three hours straight hiking) and camp for the night. Walk back to the Worsley Hut along the river, fishing as you go. Go when you want to go with our charter rate for up to 5 people to the Worlsey River for $600 or join our 11.30am or 2pm Milford Track hiker departure from Te Anau Downs, pick up 12.45pm and 3.15pm for $300 per person return.
Clinton River
The Clinton River is controlled by a Fish & Game ballot system. There is no hut at the Clinton River, and camping is not allowed within 500 meters of the Milford Track. The only option for camping is at North Branch, approximately 10 kilometers' hike from your water taxi drop-off point at Glade Wharf.
Water taxi transfers to the Worsley River and Clinton River can be booked on a on-demand charter basis, so you have plenty of flexibility. Prices start from $600 for a one-way transfer (up to five people). We will always try to combine your pick-up or drop-off with other loads wherever possible to reduce the price.
During the Great Walks season, you can travel on our 11.30am or 2pm daily water taxi service to the Milford Track to access the Clinton River. This will reduce the price to $190 per person return. Pick up is 12.30pm or 3pm daily from Glade Wharf..
Boat transfers to other areas
If you have somewhere else in mind for fishing, we are happy to provide you with pricing on water taxi charters to other rivers around Fiordland. Typically, this should not be more than $600 for a one-way journey for trips on Lake Te Anau or Lake Manapouri for up to 5 people.
We can also offer water taxi charters for Lake Monowai, Lake Mavora and Lake Hauroko. These trips are more expensive than options closer to Te Anau, and many anglers choose to fish the Worsley, Clinton or Glaisnock instead.
What you need to know about Fiordland fishing
A fishing licence is required any time you are fishing in Fiordland. Licences are available from Fish and Game NZ. Make sure you are aware of legal catch limits and fishing season dates.
We must sight fishing licenses and a clean gear certificate before we can transport you to Fiordland fishing locations. This is to prevent the spread of didymo. We offer a free cleaning service for our customers, which involves cleaning rods, reels, boots, waders, flies and tackle to ensure kit is clean before you go.
Didymo
Many of Fiordland's inland lakes and rivers do not have didymo. Therefore you need a Clean Gear Certificate for all fishing gear, pack-rafts and kayaks from an approved Clean Gear Station before you go. The Fiordland National Park Visitor Centre is a Clean Gear Station. To help prevent the spread of didymo, ensure you clean your gear between catchments. Clean Check Dry is a good resource for further information on didymo
Safety in Fiordland
Fiordland National Park is a wild and remote part of New Zealand. Regardless of your experience in the backcountry, it is important to be prepared for all weather conditions and know how to stay safe. A good resource for staying safe in Fiordland is found on the DOC website.
Highlights
Fiordland is the home of sly brown and hard-fighting rainbow trout
The area is revered by keen anglers from around the world because of its abundance of animals and spectacular scenery
A water taxi charter is the best way to get you into remote fishing locations.
FAQs
Let us know 24 hours prior to your departure for a full refund.

We are happy to clean your gear and issue you a certificate for free. We are trained and can answer any questions you may have about didymo.