Plan and Prepare
Milford Track Day Walk from Lake Te Anau
Leave from

Return to

Duration

Availability

Suitable for

Couples, Groups, Families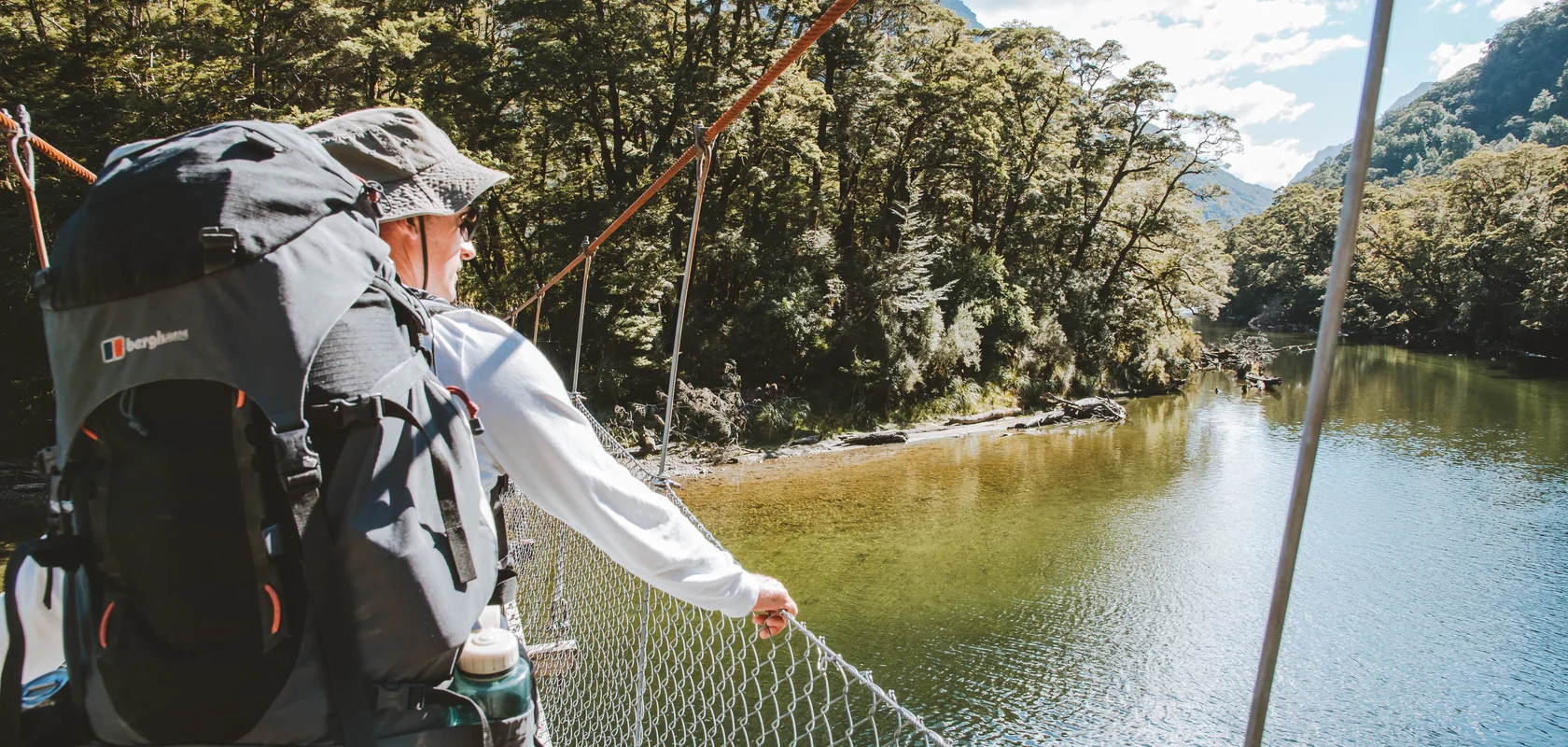 Experience a day hike on the world-famous Milford Track  
'The Track along the bank of the Clinton is undoubtedly entitled to rank as one of the most romantic walks in New Zealand or for that matter the wide world' William McHutcheson 1892
The walk begins at Glade Wharf, a 50-minute boat journey from Te Anau Downs. Enjoy a cruise over Lake Te Anau before jumping back on shore, ready to explore the Milford Track.
Once you've arrived at the Glade Wharf Terminal, the track is through thick native beech forest. It won't be long until you see your first sign of civilisation and the first swing bridge. Keep your eyes and ears peeled for snippets of the Fiordland mountains peeking through and listen for the birds; you might spot a few along the way. This section of the track offers a taste of one of the world's most famous walks and is ideal for those looking to experience part of New Zealand's Great Walks.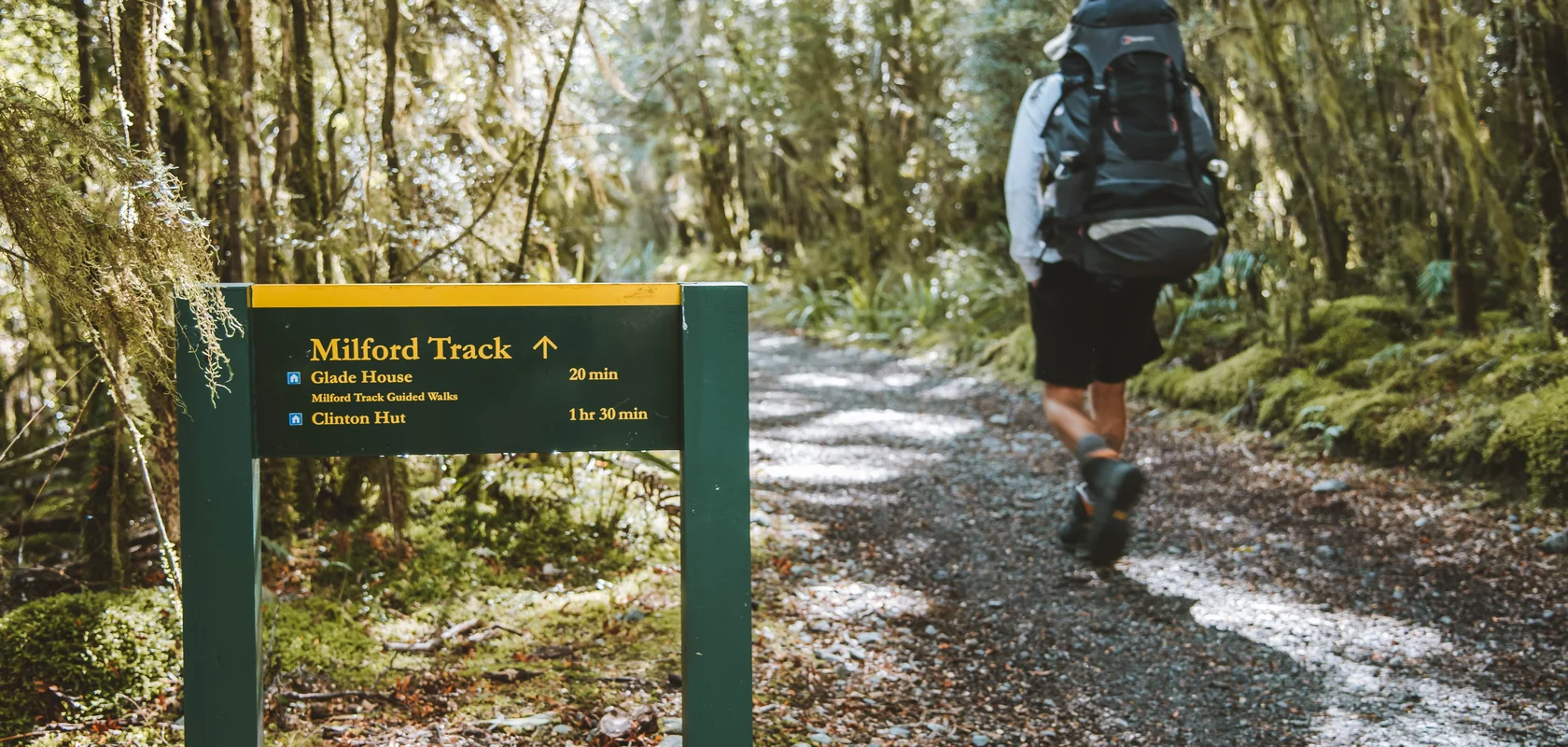 Why do the Milford Track Day Walk from Te Anau ?
Take a trip up into the back door to Milford Sound and watch as the landscape evolves and develops along the route, becoming more and more picturesque as you travel deeper into Fiordland National Park.
A day walk on the Milford Track is your chance to see the spectacular natural beauty of New Zealand, the native bush, and everything the track is famous for – without overnighting in the huts.
As you walk, listen for our winged friends, resident grey warblers, bellbirds, and even tui, and perhaps enjoy a visit from friendly fantails and curious robins. The walk is easy-going, flat walking, and suitable for all. With a total 10km return trip and plenty to see, this is the perfect day trip from Queenstown or Te Anau. Bring your picnic and enjoy lunch at Clinton Hut before returning to your water taxi at Glade Wharf.
How to get there?
Te Anau downs is twenty minutes outside of the Te Anau township. Follow the lake towards Milford Sound and enjoy the picturesque views as they unfold in front of you.
If you are staying in the local area you have two options. Self-drive to Te Anau Downs car park and meet the 11.30am water taxi or if you would like to bus through to Te Anau downs your bus will depart Te Anau town at 11am. If you are staying in Queenstown a bus transfer can be arranged, departing at 8am.
New Zealand's most famous walk, the Milford Track, has been thrilling hikers for more than 150 years. We cant wait to transport you to nature this season.
Highlights
Experience the first day of the Milford Track independently at your own pace
- Includes return boat transfers from Te Anau Downs to Glade Wharf.
- Hike to Clinton Hut, the first DOC Backcountry Hut on the Milford Track
- Experience the native bush, flower, fauna, and wildlife during your hike
- Can be experienced as a day trip from Queenstown or Te Anau
- Small, fast, comfortable water taxis and knowledgeable onboard skipper
- An incredible activity to do while staying in Queenstown or Te Anau
- A Flat, easy-going, 10km return that is suitable for anyone
Book a Milford Track Day Walk
Available 25 Oct 22 - 30 April 23
FAQs
Queenstown -The bus departs at 8am from Queenstown and meets the 11.30am water taxi at Te Anau Downs boat launch. Return boat departs Glade Wharf at 4pm and links up with the bus at Te Anau Downs at 5pm, Returning back in Queenstown 7.30pm

Te Anau – The bus departs at 11am from Te Anau and meets the 11.30am water taxi at Te Anau Downs boat Launch. Return boat departs Glade Wharf at 4pm for return trip and links with bus at Te Anau Downs at 5pm, Returning back in Te Anau 5.30pm

If you are driving yourself to our Te Anau Downs Wharf you need to follow the Te Anau Milford Highway, it is best to type in "Te Anau Downs Boat Launch, Te Anau Downs 9679" into Google. It is about a 25 min drive from Te Anau or 2.5hrs from Queenstown and there is parking available.