Plan and Prepare
Routeburn Track Day Walks
Leave from

The Divide/Routeburn Shelter

Return to

The Divide/Routeburn Shelter

Duration

3hrs Return / Full Day Walk

Availability

1 Nov 2023 - 30 April 2024

Suitable for

Solo, Couples, Groups, Families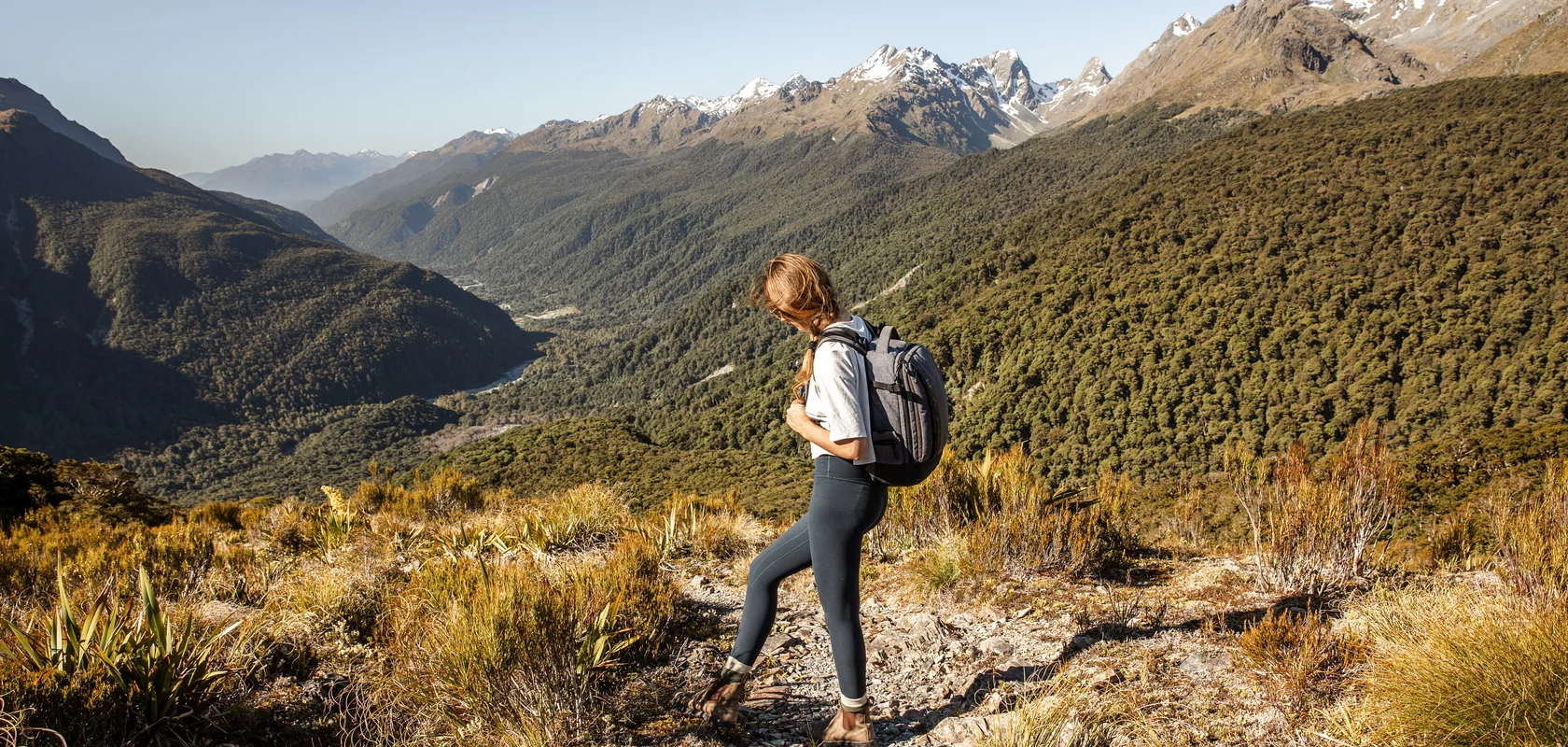 The Routeburn Track spreads across two iconic National Parks, offering many options for Great Day Walks.
Start your day walk from Glenorchy, the Mount Aspiring side, or begin from The Divide, an hour's road trip from Te Anau. The drive to each location will grant you a peek at the beauty of this region, and these day walks give you the chance to step onto this world-renowned track.
Plan for a full day, heading as far along the Routeburn Track as time allows, or take it easy with a few hours spent soaking up the rich rainforest. These day walks are great options for families and those who want to try an Routeburn adventure.
Welcome to the Routeburn Track
This 33-kilometer tramp is one you won't want to miss, and we'll let you in on a secret…you don't need to complete the entire track to experience it! Choose one of the day walks below to dive deep into the paradise where mountains, rivers, waterfalls, and valleys await.
The Routeburn Track crosses between two national parks: Mt. Aspiring on the east and Fiordland on the west. Its unique one-way journey brings thousands of trampers every Great Walk season. From the Divide, appreciate uninterrupted views into the Hollyford Valley and across the Darran Mountains. This section is lush, mossy, and teeming with every shade of green. From the Routeburn Shelter side, cross swing bridges, pass waterfalls and marvel at the schist rock faces. Two unique landscapes that weave into one incredible track make it truly unique.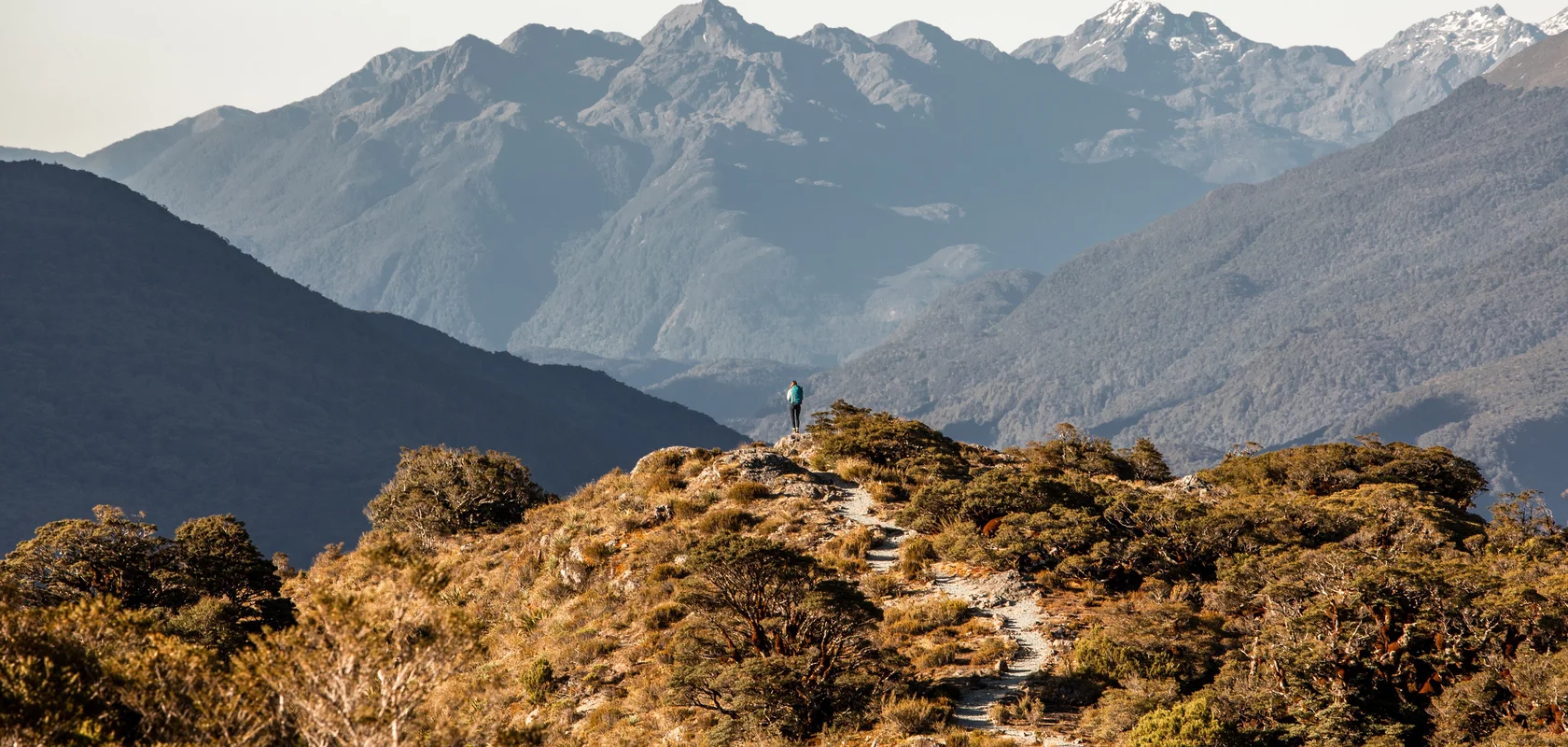 What are the options for day walks on the Routeburn Track?
Divide to Key Summit
Half-day walk - 3 hours (easy to moderate)
One of Aotearoa's most popular day walks
Enjoy the lush forest and climb above the bush line for sweeping 360 views
Explore boardwalks over alpine herbs, tarns, and plenty of native birds
Learn about the glacier that once glided over Key Summit
Divide to Earland Falls
Full-day walk - 6-7 hours return (moderate to challenging)
Dedicate the day to this epic day walk
Encounter a wide variety of New Zealand's best landscape scenes
Strive to reach the mesmerising Earland Falls, flowing at 174m tall
Check out Mackenzie Hut, the final hut on the Routeburn multi-day walk, if you want to push yourself and have time.
Routeburn Shelter to Routeburn Flats Hut
Half-day walk - 2-3 hours (easy)
Cruise on a comfortably flat trail that hugs the Routeburn River
Stroll through the beech forest, noting the beautiful birdsongs
Plan for a picnic on the grassy valley floor just outside the hut
Ideal for families and those wanting an easy bush walk
Routeburn Shelter to Routeburn Falls Hut
Full-day walk - 6-8 hours (easy to moderate)
Start with an easy walk to Routeburn Flats Hut
Prep for an elevation boost to reach Routeburn Falls Hut
Enjoy vistas of the Humboldt Mountains on your way up
Reach the Routeburn Falls cascade, the type of reward we love.
How to access each location
On these day walks, start and finish in the same place, making it easy to drive yourself. However, if you don't have a vehicle, you can book a return bus transfer from Queenstown or Te Anau. If you have any questions, feel free to give us a call.
Don't forget
Comfortable trainers (waterproof if you have them)
Layers - prepare for wind, rain, and cooler temperatures
Water, each walker should carry 1 to 2 litres
Food, snacks for on-the-go, and a meal to enjoy at your destination
First aid kit, including insect repellent and sunscreen
And always tell someone where you are going! Tell a friend or check in with the local DOC office.
Handy GPS Map
We recommend downloading this super handy app to have with you on your hike. It even shows your GPS location so you can see where on the trail you are located while you hike to make sure you don't miss the bus!
Highlights
Drive into the scenic Fiordland National Park or Mt. Aspiring National Park.
Step onto the iconic Routeburn Great Walk Track.
Push yourself to Earland Falls and Routeburn Falls Hut to experience more on your day walk.
Pack a picnic lunch and enjoy the long day with no rush.
Book Routeburn Bus Transport
Available 1st November – 30th April
FAQs
Please take care with your timing on the track to ensure you are back in plenty of time to meet the return bus. In the event you miss your return bus, you may need to pay for a private charter which could be expensive. We recommend you download the Great Hike app above to check on your progress/location.

Divide to Key Summit and Routeburn Shelter to Routeburn Flats Hut are 2 perfect family walk options.