Get ready for your Great Walk adventure
The Great Walk season in New Zealand runs from October through to April and is the best time to experience three of the finest hiking tracks in the world, found right here in Fiordland. From rugged mountain tops to glacial lakes and incredible scenes peppered over days in the backcountry, your Great Walk adventure will be unforgettable for years to come.
Logistically these three Fiordland Great Walks require a bit of preparation, ensuring everything runs smoothly and giving you peace of mind while you enjoy the epic New Zealand scenes before you.
This blog post details all you need to know about getting ready for your Great Walk adventure.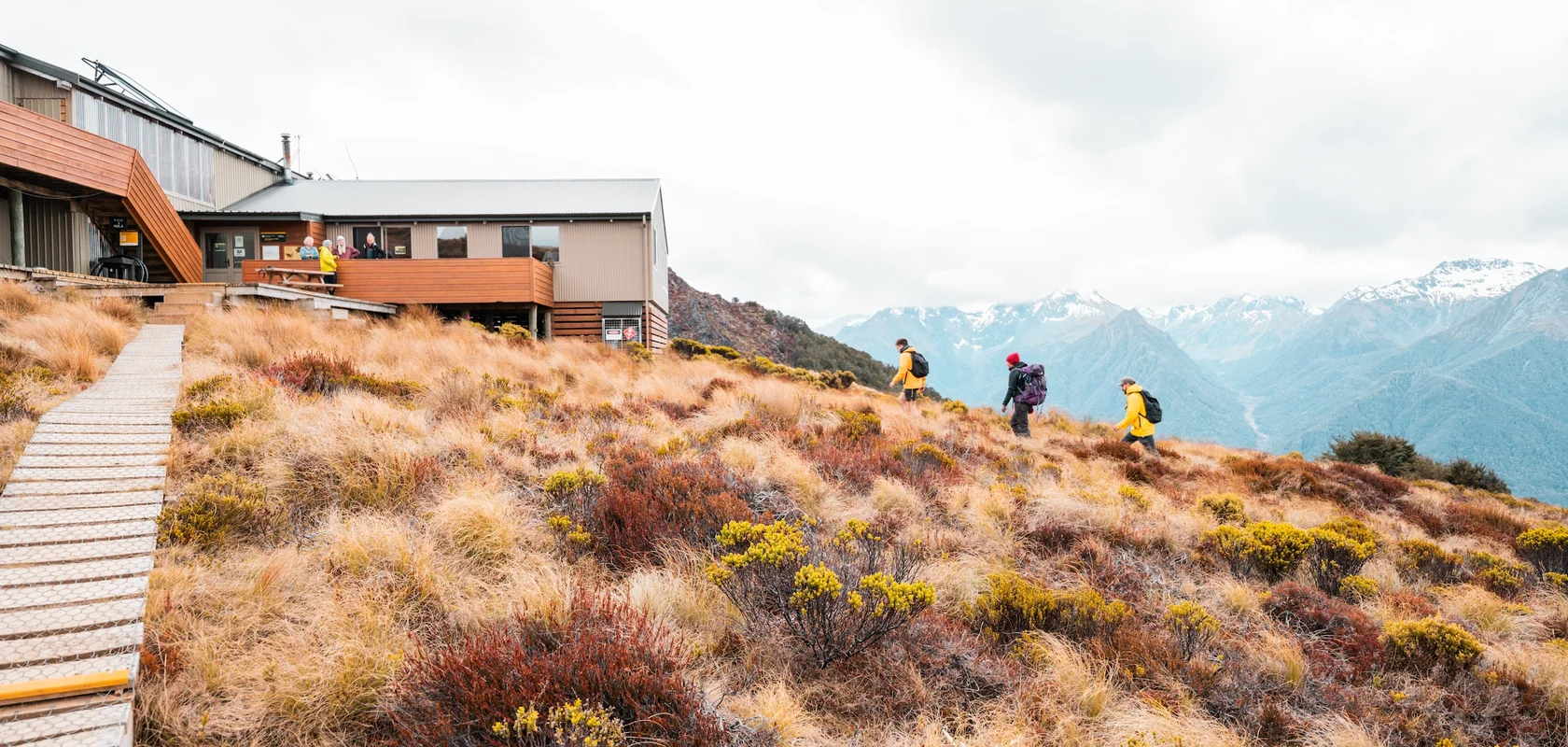 Fiordland Great Walks at a glance
The Milford Track – Duration – 3 Nights / 4 Days
The Kepler Track – Duration – 3 Nights / 3 Days
The Routeburn Track – Duration – 2 Nights / 3 Days
What to expect
With incredible vistas, beautiful mountains, and an array of backcountry huts, the Great Walks achieved their status for a good reason. These premier tracks pass through diverse and spectacular scenes. Expect to see lakes and rivers, native bush, and hopefully some wildlife. Fiordland National Park is also home to a diverse weather system, and you may experience all kinds of weather during your trip, so be sure to pack accordingly.
Great Walks Training Schedule
Wondering how fit you need to be? You are about to embark on an epic adventure in Fiordland, and the team at Fiordland Outdoors Co. wants to ensure you are at the top of your game to truly enjoy your hike with family and friends. We highly recommend starting your training at least three months from your departure date.
Practice carrying your bag, train in your boots, so they are comfortable, and be sure to get in some steps before you depart. Light training on the flat ground is suitable for stamina, but we highly suggest ticking a few hills off your list before embarking on your Great Walk adventure.
We are skilled in all things backcountry and know how amazing Fiordland is (it is our backyard, after all). We are here to provide all the information you need before heading out.
As a Fiordland Outdoors Co. first, we have teamed up with Grounded Movement Co. an awesome local exercise specialist company very familiar with the Great Walks. Casey who has a Master's Degree in Exercise Prescription & Management from the University of Otago, distinction (2014) has created an essential training schedule just for you to help you tackle the climbs and km's on your Great Walks hike.
CLICK HERE for your free 6 week Great Walks Training Guide
Want a little more? As an exclusive offer for our 2023/2024 season Great Walkers, the team at Grounded Movement Co. are offering 10% off for personally and professionally designed individual workouts based on your needs & fitness goals.
CLICK HERE for 10% off personalised Great Walks fitness packages
Great Walks Packing List
What should you take on the Great Walks? Our non-negotiables include a good backpack, quality boots, warm waterproof clothing, and enough food to keep you warm and fuelled during your hike.
Gear
Backpack (40–60 litre size for multi-day hiking) with a waterproof pack liner
A quality sleeping bag suitable for the season
First aid kit, don't forget sunscreen & sandfly spray
Reusable drink bottle (1-2 litre capacity)
Eating and cooking utensils (knife, fork, spoon, plate, cup, pot/pan/billy, cleaning kit)
In the Great Walks season gas cookers are provided in huts – you do not need to take gas unless you want a cuppa on the trail between huts in which case pack a portable stove and gas.
Matches or lighter in a waterproof container
Personal toiletries
Head torch/flashlight and spare batteries
Rubbish bag, you must pack out what you pack in
DOC Hut Tickets and ID – don't forget to pick up your hut tickets from the Te Anau/Queenstown DOC office
Toilet paper
Camera to snap the memories
Ear plugs for communal bunk-rooms, somewhat of an essential item
Clothing
You know what you are comfortable hiking in and carrying in your backpack. Be sure to pack warm, and for all weather, you are hiking in Fiordland after all. We can experience all four seasons in a day here, and you need to be prepared.
For multi-day walking you'll need at least one set of clothes to walk in and another dry set to change into at night
Walking boots or firm footwear (should be comfortable and well broken in)
Socks (wool or polypropylene)
Shorts (quick dry material)
Under layers, top and bottom (wool or polypropylene)
Mid-layers (wool or polar fleece)
Raincoat and or warm down jacket (waterproof, windproof with hood)
Over trousers (wind and waterproof)
Warm hat and gloves
Sunhat and sunglasses
Extra socks, underwear, shirt/lightweight jersey
Optional
Gaiters
Lightweight shoes for inside the huts
Food
You can't buy food on the track, so you must pack in and pack out all your culinary delights. It is best to bring food that is lightweight, fast cooking and high in energy.
Breakfast: cereal/porridge/oats, firm bread, honey or other spreads
Lunch: cracker biscuits, cheese, salami, jam/jelly, fruit
Dinner: instant soup, pasta or rice, dried vegetables or fruit, cheese or dehydrated (freeze-dried) meals. Our friends at Backcountry Cuisine have a great range from breakfast through to dinner.
You'll also need water, snacks, biscuits, muesli bars, tea, coffee, powdered fruit drinks and emergency food in case of any delays on the track.
The list may look long but we promise it is worth being over-prepared and stocked up to avoid complications in the backcountry.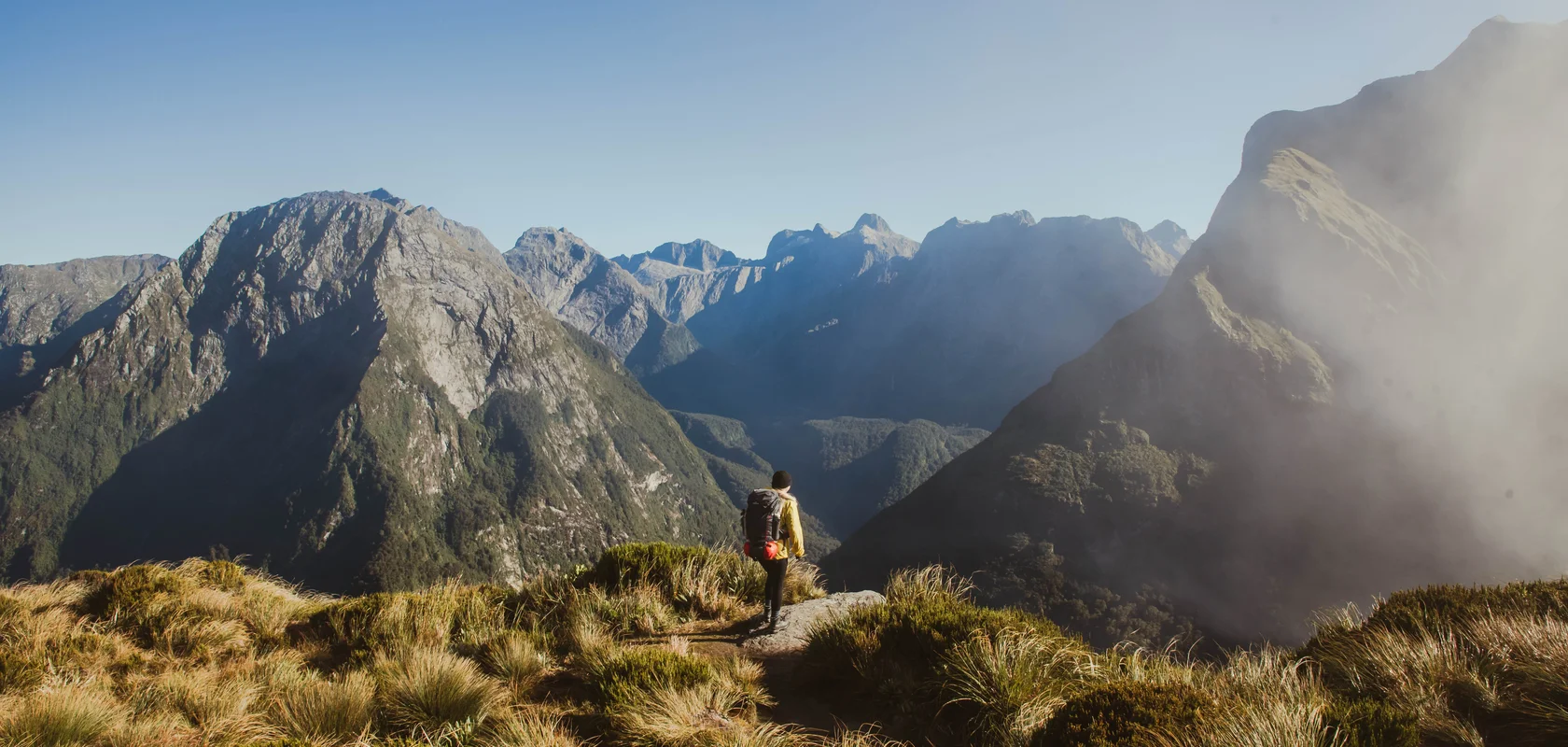 Booking your track transport
That is where we come in. We offer an easy, all–in-one transport package for you and your group. You decide how you want to get to your chosen Great Walk and back again, and we will make it happen. We have options available for bus, plane, car relocation, and water taxi's accommodating large groups and individuals. We have a fleet of dedicated water taxis in Te Anau and Milford Sound waiting to transport you to your adventure. Start your Fiordland Great Walk with Fiordland Outdoors Co. Head here to view your track transport options.
Staying on in Fiordland?
Transport is booked, your hut bunk is waiting, and you are ready to step foot on the world-famous hiking tracks. Have you thought about tacking on a night of luxury at the Milford Sound Lodge to celebrate your Milford our Routeburn adventure?
Think hot showers, deep baths, glorious food, and a chance to kick back and soak in all the memories you just created. How about a cruise or kayak to score a tick through the Fiordland bucket list?
If you are keen to explore more of Te Anau, follow our blog page for more Fiordland information and inspiration.