Plan and Prepare
George Sound Track
Leave From

Te Anau Downs or George Sound

Finishes

George Sound or Te Anau Downs

Duration

Availability

Year Round, weather dependant

Suitable for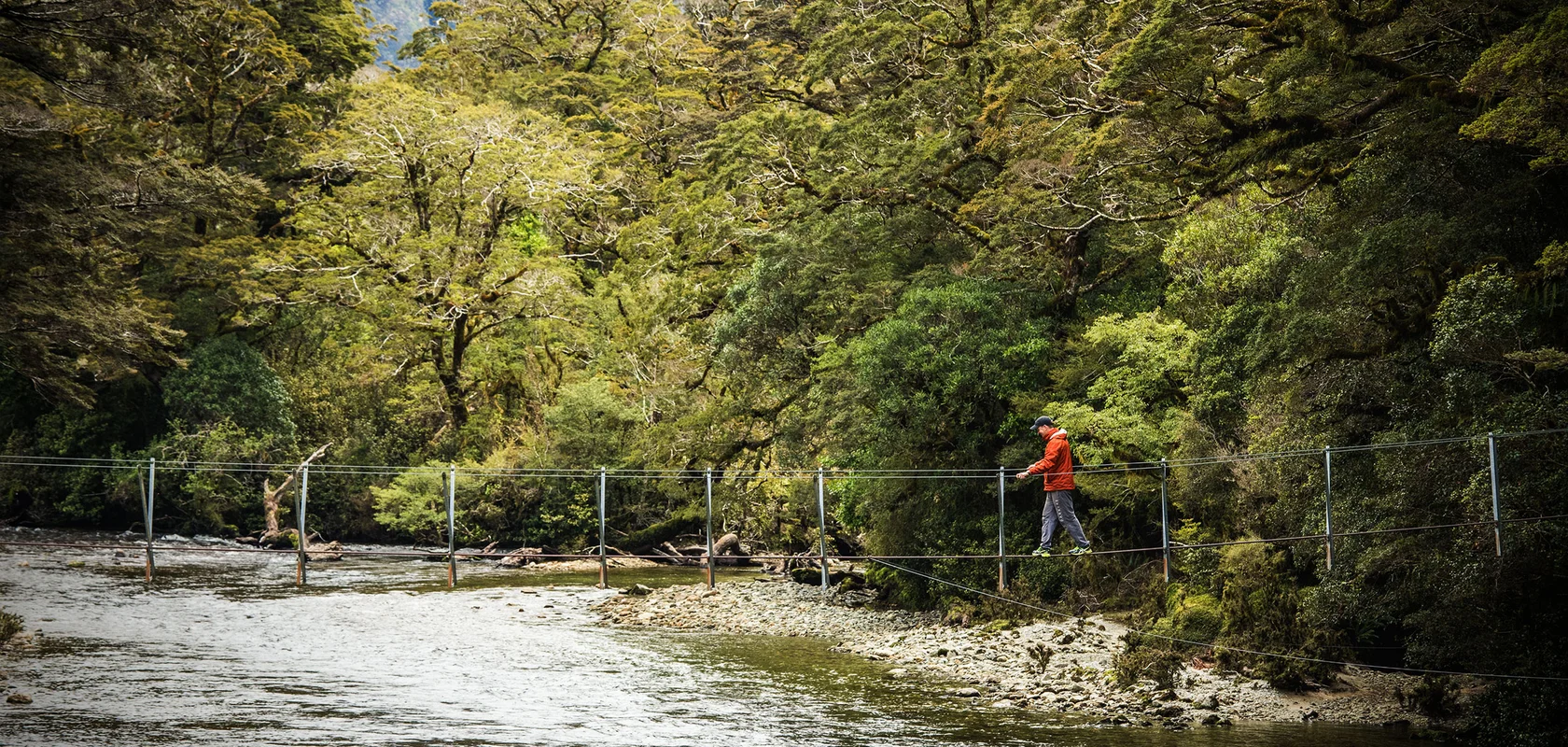 This is the hiking adventure for anyone looking for a challenging yet spectacular walk through the heart of Fiordland National Park. Our complete transport packages to and from the George Sound Track makes planning a breeze.
The George Sound Track is a challenging route from Lake Te Anau to the fiord of George Sound, Te Houhou, or vice versa. Although the track is reasonably well marked, expect to encounter tree falls, river crossings, muddy waters, and rough terrain. This is pure backcountry wilderness at its very best.
If you love solitude, scenery, and the satisfaction of a physical challenge, then the George Sound Route may be for you.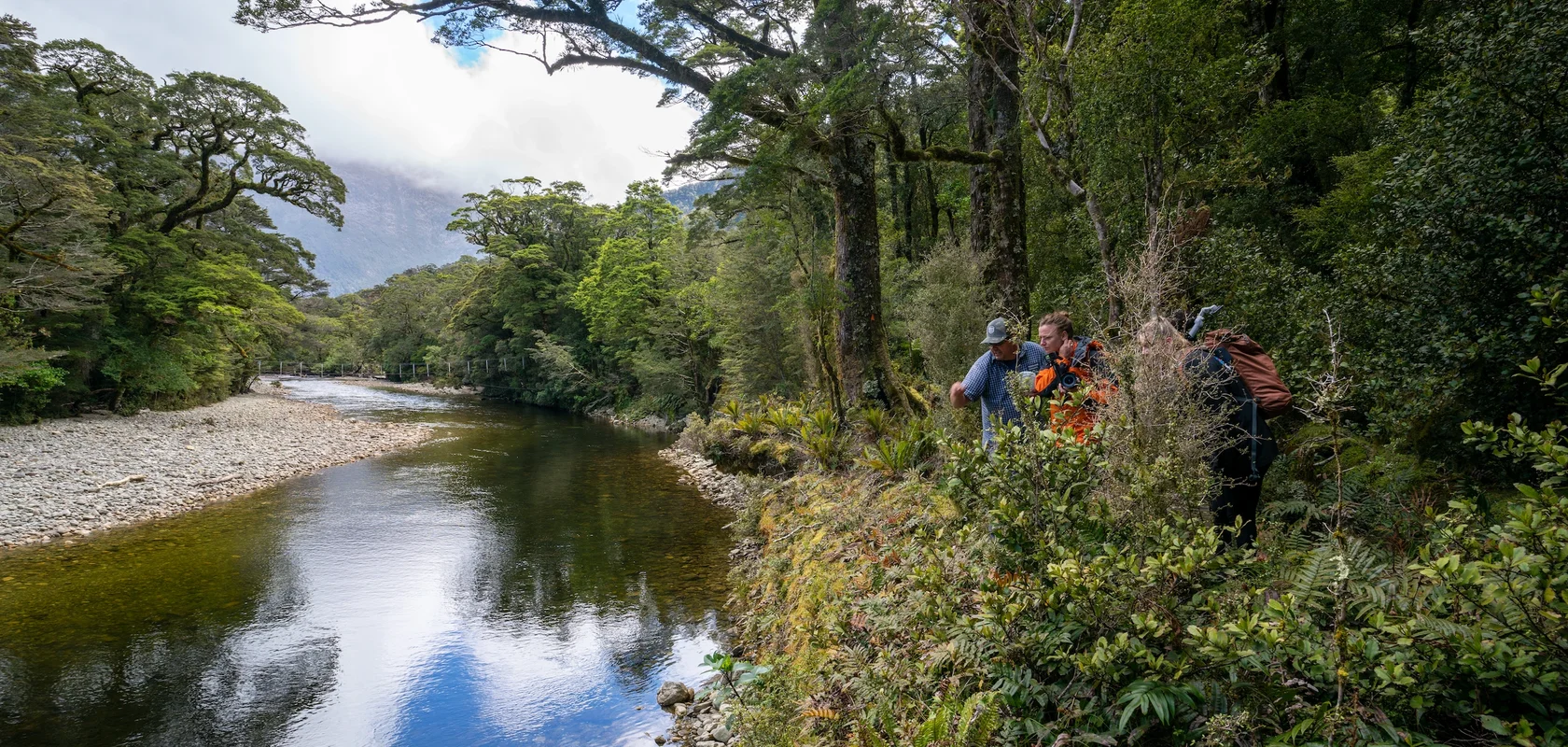 George Sound Track: What to expect
The George Sound Track is actually classed as a route, and because of this, does not get the same maintenance as Fiordland's main walking tracks. You will need above average fitness and high-level backcountry skills and experience, including navigation and survival skills. 
The track is not well defined in places and is consistently muddy and wet. Some sections become impassable due to flooding after heavy rain – this is not uncommon, and hikers should prepare for delays and staying additional nights.
You need to be well equipped with topo maps, and a Personal Locator Beacon or mountain radio is essential. An inReach device or satellite phone is even better.
But this track is certainly an adventure! We recommend talking to the local Fiordland DOC Visitor Centre before departing, so you have the most up to date information.
Rivers and lakes are prone to rapid rising. Lakes can get very windy, and there are few places to land.
Read more about the George Sound Track from a local's experience here.
Getting to the George Sound Track
Fiordland Outdoors Co. operates a chartered track transfer service between Te Anau Downs and Hankinson Hut. Allow at least 2.5 hours travel time.
Safety is your responsibility
Before you head into the outdoors, tell someone your plans and leave a date to raise the alarm if you haven't returned. To do this, use the New Zealand Outdoors Intentions process on the AdventureSmart website.
Take extra days of food in case you are delayed due to weather or flooding. Portable stoves for cooking must be carried, as there are no cooking facilities supplied in any of the huts on this route. A tent is also required due to the long distance between the George Sound Hut and Thomson Hut.
Highlights
Fiordland Outdoors Co. operates a charter service for hikers on the George Sound Track.
We offer a reliable and easy option for accessing this remote location. Two boat journeys, one company.
A fast, comfortable journey across Lake Te Anau and Lake Hankinson on our water taxis.
Travel with a local team who have expert local knowledge on this challenging route.
Option to add-on a helicopter or floatplane journey in or out of George Sound, Te Houhou.
Book George Sound Track
Available all year round, weather dependent
FAQs
You can choose to walk from Hankinson Hut to George Sound, Te Houhou, and back again (cheapest transport option) or we recommend you fly into George Sound,Te Houhou and walk out to Hankinson Hut as we can collect you in any weather by water taxi.

We can transport a maximum of 6 people per trip.

Yes! We are happy to try to combine you with others interested in walking the track to reduce transport costs.