10 Things to Take Hiking in Fiordland
Fiordland National Park is famous for its beautiful vistas, rugged terrain and glacier-carved valleys. It's also famous for its weather. Home to some of the most rewarding and inaccessible walking in the world, Kiwis and travellers alike are drawn to hiking in the true wilderness. While some trails, such as the Routeburn, Kepler and Milford Tracks, have gained New Zealand Great Walk status, and the upgrade in facilities that comes with it, others, such as the Hollyford, Dusky and George Sound Tracks, invite you to walk on the wilder side.
Embarking on any multi-day mission involves preparation, and this is never truer than for hiking in Fiordland, where the weather can change quickly and you can expect rain around 200 days of the year. Rivers rise – and so do the seemingly insignificant creeks that feed them, meaning you need good judgement as well as high stamina to navigate your crossings or understand when you need to wait.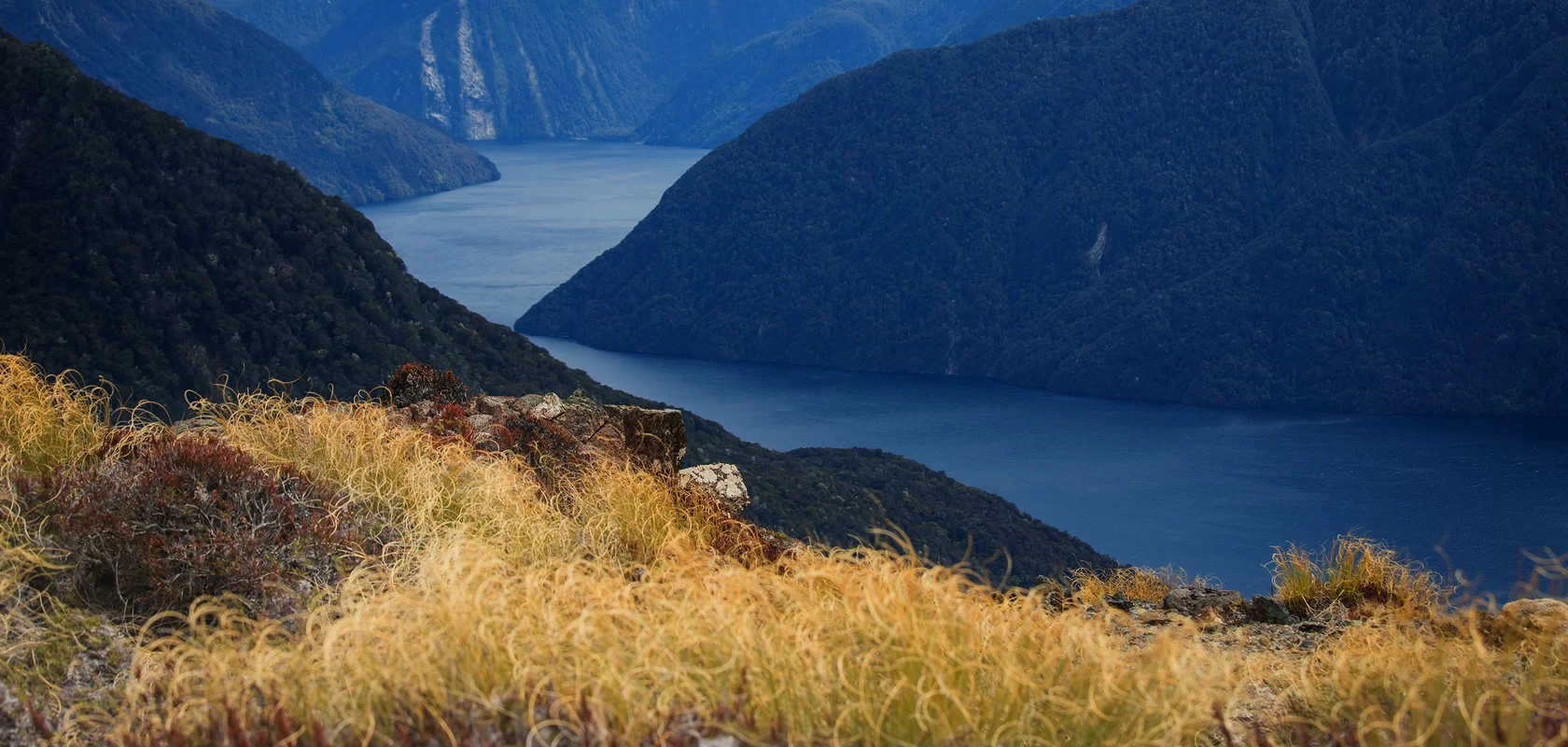 Given these conditions, you also need the right gear with you! So let's take a look at 10 things we suggest taking on an adventurous hike in Fiordland National Park.
1. Communication device
On a day-walk on the Kepler Track, you'll be lucky enough to have sporadic phone signal, whether you're heading up to Luxmore Hut or round to Rainbow Reach. Not so on the variety of tracks you find farther from the borders of Lake Te Anau. While a personal locator beacon will alert emergency services to your position if you get into trouble, a satellite phone or mountain radio will allow you to communicate with the outside world should you be delayed or injured.
2. Fly, tarp or tent
There is an amazing hut network in New Zealand, and remote, comfortable shelters available throughout Fiordland. These are a welcome break from the weather when it's bad, but what if you're unable to reach your next stop? Carrying a fly, tarp or tent may increase the weight of your pack slightly, but you'll be thankful if you end up needing to spend a night in the bush.
3. Food to spare
There are recommendations on the DOC website indicating how long to budget to complete the tracks. Some choose to take longer and linger at the huts. Others, constrained by time or challenging themselves, decide to condense the timeframe. But however long you think you'll be out there, it's a good idea to cater for longer. Dehydrated camping food is readily available and incredibly lightweight, so stock up on provisions in case of delay!
4. Gas cooker
Speaking of dehydrated camping food, all you need to do is add hot water. Even if the huts you plan to visit have gas, it makes sense to carry a camping stove – increasingly small and fast these days. There's really nothing like a hot drink on a wet day.
5. Head torch
You may not plan to hike in the dark, but Fiordland may have other ideas! Bear in mind that darkness falls sooner in the forest and there's nothing better than being able to see. If your headtorch is rechargeable – make sure it's charged! Or carry spare batteries. Even a spare torch.
6. Hiking boots
The terrain can be rocky, riddled with tree roots, muddy and slippy. Great grip is essential! Trainers just don't cut the mustard in Fiordland, and the comfier your footwear, the more fun the journey. Make sure your hiking boots support your ankles and fit your feet.
7. Map
Some walkers dispense with carrying a map, presuming they're heading onto a well-marked route and well-formed track. We don't recommend this in Fiordland – and it's not just about getting lost! Whether you go for an old-school fold-up map or an app on your phone, a topographical map will show you where the creek and river crossings sit, as well as indicating how steep the going could get before the next hut crops up.
8. Survival gear
If you get stuck, whether due to injury or being trapped between swollen rivers, a little goes a long way when it comes to survival gear. An emergency blanket or survival pack liner (just $8 in the DOC visitor centre) could mean the difference between staying warm and relatively dry versus running the risk of hypothermia. You might assume you'll meet other people on your walk, but that's not necessarily the case in Fiordland, even on the more well-trodden tracks – especially if people have been predicting bad weather! Whether you think you will need it or not, carry a personal locator beacon. This sends a GPS signal to the emergency services so you can be found and rescued if you get into real trouble.
9. Warm clothing
Don't wear cotton. Take polypro or merino thermals that wick moisture away from your skin and keep your core warm; thick socks, a hat and gloves to keep those extremities cosy; and keep one set of everything dry, so you can change into them and heat yourself up after a long day in the wet.
10. Waterproofs
Last but certainly not least, waterproof yourself! Take a good raincoat and a cover for your pack as well as a liner. Wear gaiters to ward off the mud and put your hood up when it pours. Don't forget to sing in the rain.
Well-prepared, there's nothing like journeying through the wilderness, discovering the untamed nature of Fiordland's trails. If you've packed the items above, all you need is your sense of adventure – and that weighs nothing at all.