Why book a scenic flight after The Milford Track?
Tags
The Milford Track is a 54 kilometre journey through some of Fiordland's most pleasing landscapes. The track starts at Te Anau Downs and ends in the majestic Milford Sound, where our trusty team will be there to greet you, congratulate you, and get you home.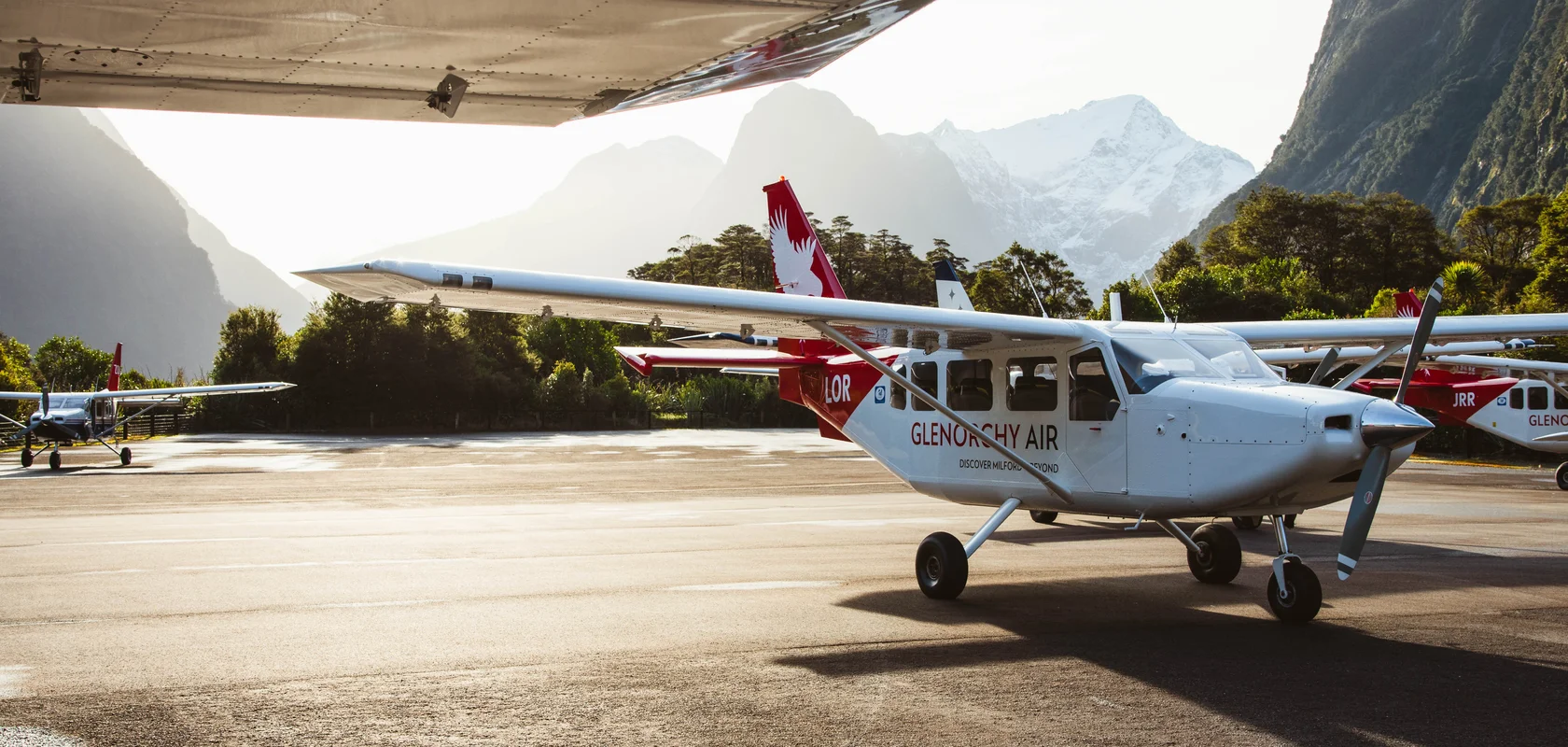 Take a walk on the wild side.
This route has been thrilling hikers for over 150 years. The journey through Fiordland, over the Mackinnon Pass, and down into the heart of Milford Sound will take four days to complete. On a clear, sunny day, be prepared to have your hiking socks well and truly blown off as epic scenes reveal themselves at every turn. Think boardwalks, suspension bridges, waterfalls, and remote wilderness, as far as the eye can see. Every hiker is rewarded with the goodness this national park offers, and walking among these sky-scraping mountain giants is a giant tick off the New Zealand bucket list.
Getting there is easy. Meet the team and our fleet of water taxis at Te Anau downs, jump on board, sit back, and relax. The journey over to Glade Wharf takes 50 minutes, and from there, you have a short 1.5-hour walk to your first hut. Hike, traverse, climb, and enjoy every second of your four-day adventure, particularly the views over the iconic Mackinnon Pass, before making your way down to our crew at Sandfly Point. We will take you across the waters of Milford Sound and on to your next mode of transport.
Have you ever thought about upgrading your transport back to Queenstown and skipping the bus? Our friends and flight partners Glenorchy Air have a seat for you.
Picture this. You have completed your adventure, and you are ready to get your hands on the closest shower, hot food, and cold beverage. Guests often choose to fly out of Milford Sound rather than travel back along the Milford Road. Why? Because it is the icing on the cake for any Fiordland experience! We can have you back in Queenstown in under an hour with a scenic flight transfer from Milford Sound.
Want to know more information about hiking the Milford Track Muti Day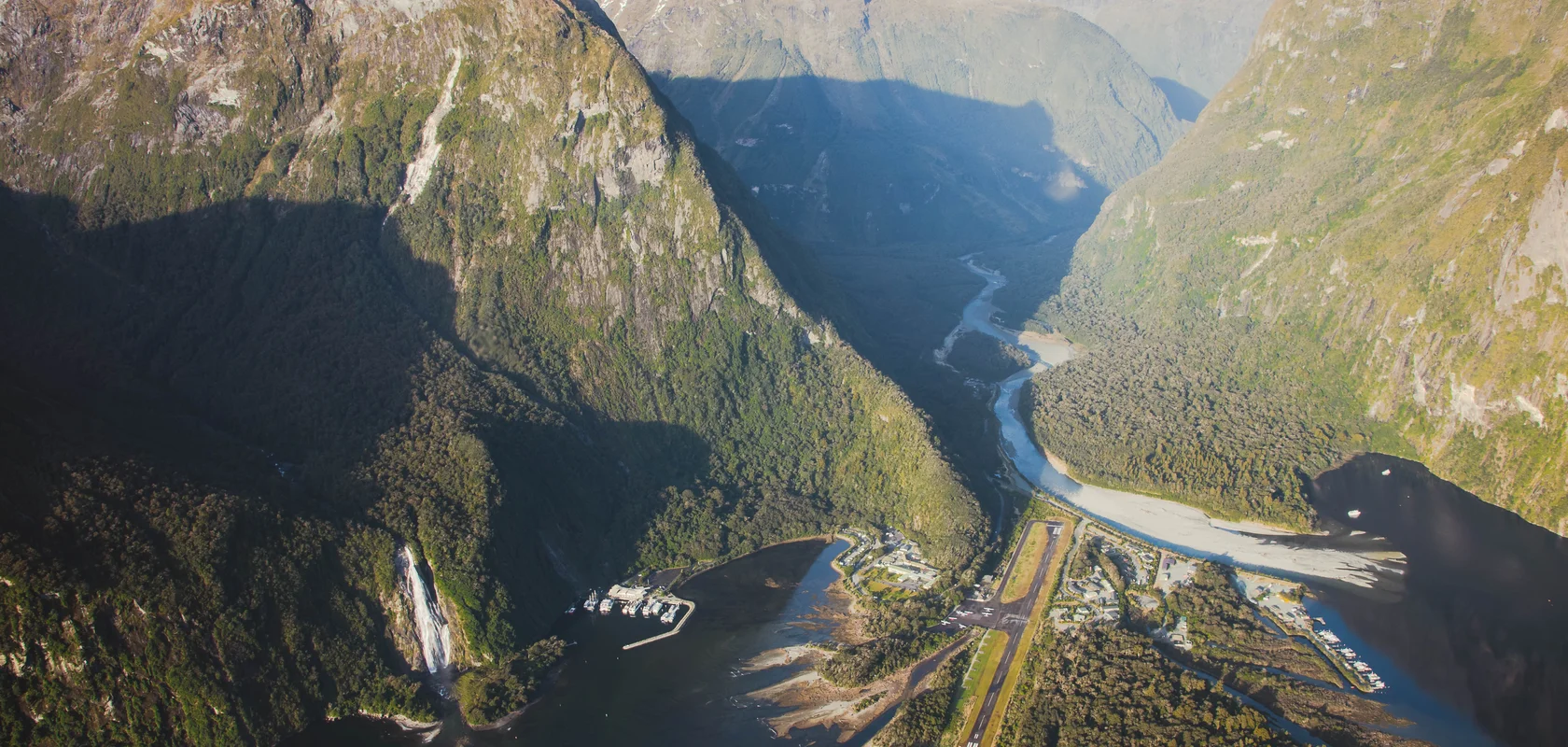 Flightpath and highlights.
After tackling the Milford Track on foot the Glenorchy Air fleet will meet you at the airport, store your bags and fly you fly high above the national park and the immense wilderness area you have walked through.
Take off past Mitre Peak and follow the typical flight path (weather depending), including highlights such as a flight over the Arthur Valley and down to the awe-inspiring Sutherland Falls. From there, you will pass Lake Iceberg, Lake Erskine (has to be seen to be believed) and have clear views of Mt Tutoko and Lake Te Anau. As your cross over the Earl mountains and the Eglinton Valley, sit back and relax as Lake Whakatipu comes into view and your final destination is within reach. Snap some incredible shots from a bird's eye view to complete one of the most epic adventures in your lifetime. Does that sound like the perfect way to end your iconic Milford Track hike?
Why take a scenic flight?
Skip the 5-hour bus ride from Milford Sound to Queenstown
Includes drop-off to your Queenstown accommodation
Arrive back in Queenstown by 4 pm with plenty of time to relax
Milford Sound Airport is just a short walk from the boat drop-off point
A scenic return flight is not a great deal extra to upgrade from your bus booking, and in case of poor weather, we will make sure you have a seat on the bus from Milford Sound back to Te Anau or Queenstown.
Housekeeping.
You are unable to carry the gas canisters from camping stoves on the flights due to the cabins being unpressurised. Regular matches will be ok but not the ones that are strike anywhere.
Power packs are to be disconnected at the time of the flight.
Here is a link to the CAA dangerous goods list that you are unable to fly with:
Have the adventure of a lifetime and end on a high. Book a return flight from Milford Sound to Queenstown with Glenorchy Air.