Top tips to score your hut bookings
How to Book Milford Track Hut Tickets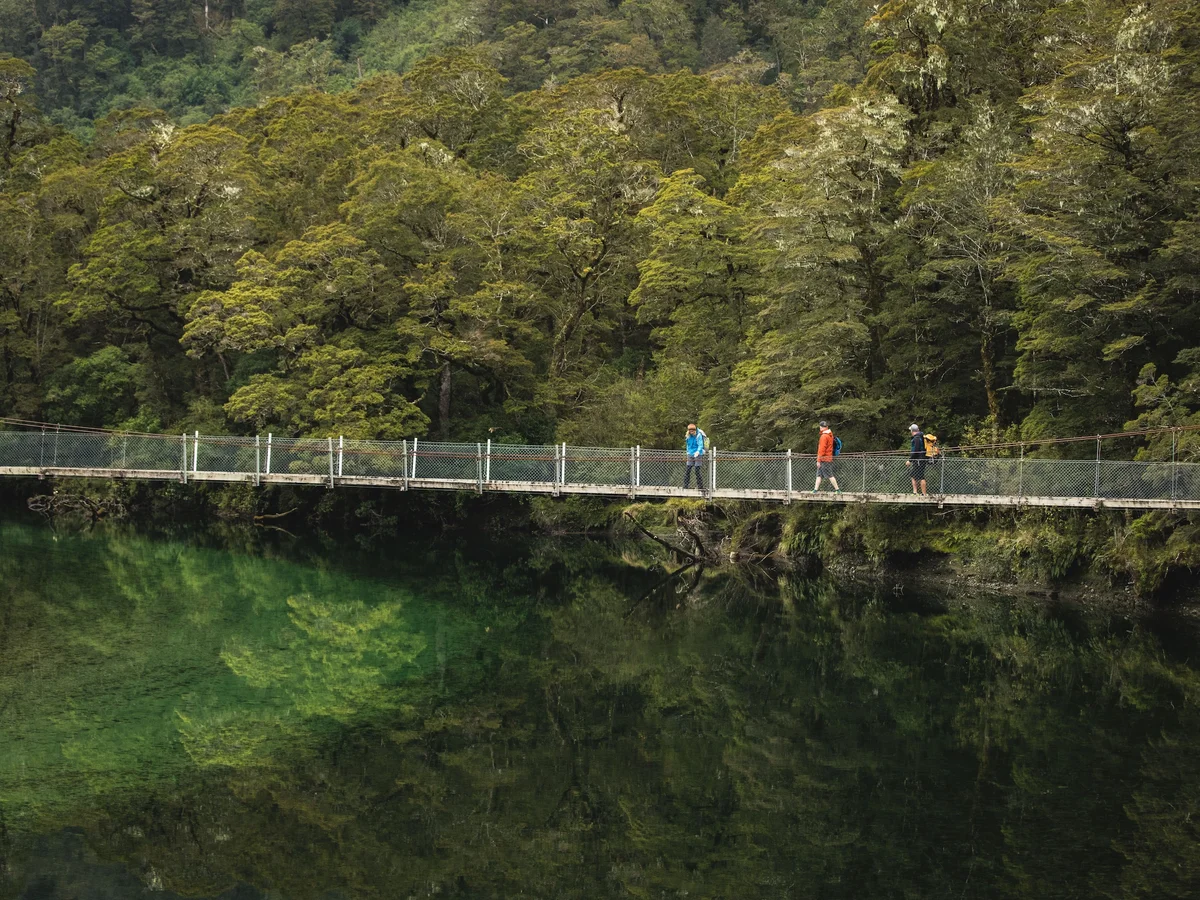 About the Milford Track
From late October to April, Fiordland National Park is an adventure playground. Home to three of New Zealand's Great Walks, the town of Te Anau comes alive with multiday hikers of all ages and keen adventure enthusiasts ready to embark on their next great adventure.
The Milford Track is commonly referred to as 'the finest walk in the world' and for good reason. This four-day, multiday hike weaves through valleys, over mountain tops, past incredible waterfalls and the magic of Fiordland surrounds each visitor from start to finish.
With the freedom of independent hiking, you can roam at your own pace, knowing you have a bunk secured in your name at the end of each day.
We have compiled a step-by-step blog about what to expect on Department of Conservation hut ticket release day. Tickets sell fast, much like those of your favourite artist's highly anticipated music concert. We have put together the below so you know what to expect when bookings open.
Booking your hut tickets.
Securing your tickets can be challenging for first-timers, especially those new to the backcountry hut ticket system. First things first, a little prep work to get you started and ready to hit purchase on the day.
Get organised – what you need to book for the Milford Track.
A place to sleep
Every independent hiker on the Milford Track must have hut tickets for all three huts. This ensures you have a place in the hut after hiking all day. The Department of Conservation manages all three huts along the track - Clinton Hut, Mintaro Hut, and Dumpling Hut.
Track Transport
The Milford Track is a point-to-point hiking track, starting at Glade Wharf and finishing at Sandfly Point in Milford Sound. To reach the start of the track and exit at the end, you will need to book a water taxi. That's where we come in. Fiordland Outdoors owns and operates a fleet of water taxi's that transport you and your hiking party to the start of the track. Departing Te Anau Downs, we travel a short 50-minute cruise across Lake Te Anau to the start point and we are ready and waiting to pick you up four days later in Milford Sound.
How to book your tickets on the release date
Organisation is the key to successfully securing your tickets, and there are a few steps you can take before the bookings open to ensure smooth sailing on the day.
DOC (Department of Conservation) operates an online booking system, and tickets are likely to be released for sale in early May or June. We update our social channels with the exact date. Most years, the track sells out in record time (under 10 minutes!), and we don't want you to miss out.
Steps to take before booking day.
Create an account with DOC. You will need your name and address details. This will save you precious time on booking day and ensure faster entry to the booking platform.
Confirm all your group's details. If you are hiking with friends and family, collect their full names, ages, and nationality. It is best to have these typed up and ready to copy and paste.
Pick your dates. It is worth having a range of dates on hand if your first choice is taken. The two-week period around Christmas and New Year typically sells first. You can quickly head to your second dates you want before they are snapped up when you are in the portal.
Booking Day
Breathe, take a deep breath. It will be busy, it can get a little stressful, but we promise it's worth it. Set your alarm, be logged in, and be ready to go at 9.25 am so you are (hopefully) first in line when the computer clock strikes 9.30 am.
Step 1.
Log on before 9.30am. This will be a breeze as you have already created an account for the Department of Conservation website.
Step 2.
At 9.30am on the dot select the Milford track from the drop-down menu.
TOP TIP: You can log on before the system opens, but all spaces appear booked out (red icons). If this happens, wait until 9.30 am on the dot and refresh your browser until the green icons appear)
Step 3.
Choose your 1st date choice to start your hike, select the number of people in your party, and then hit the search button.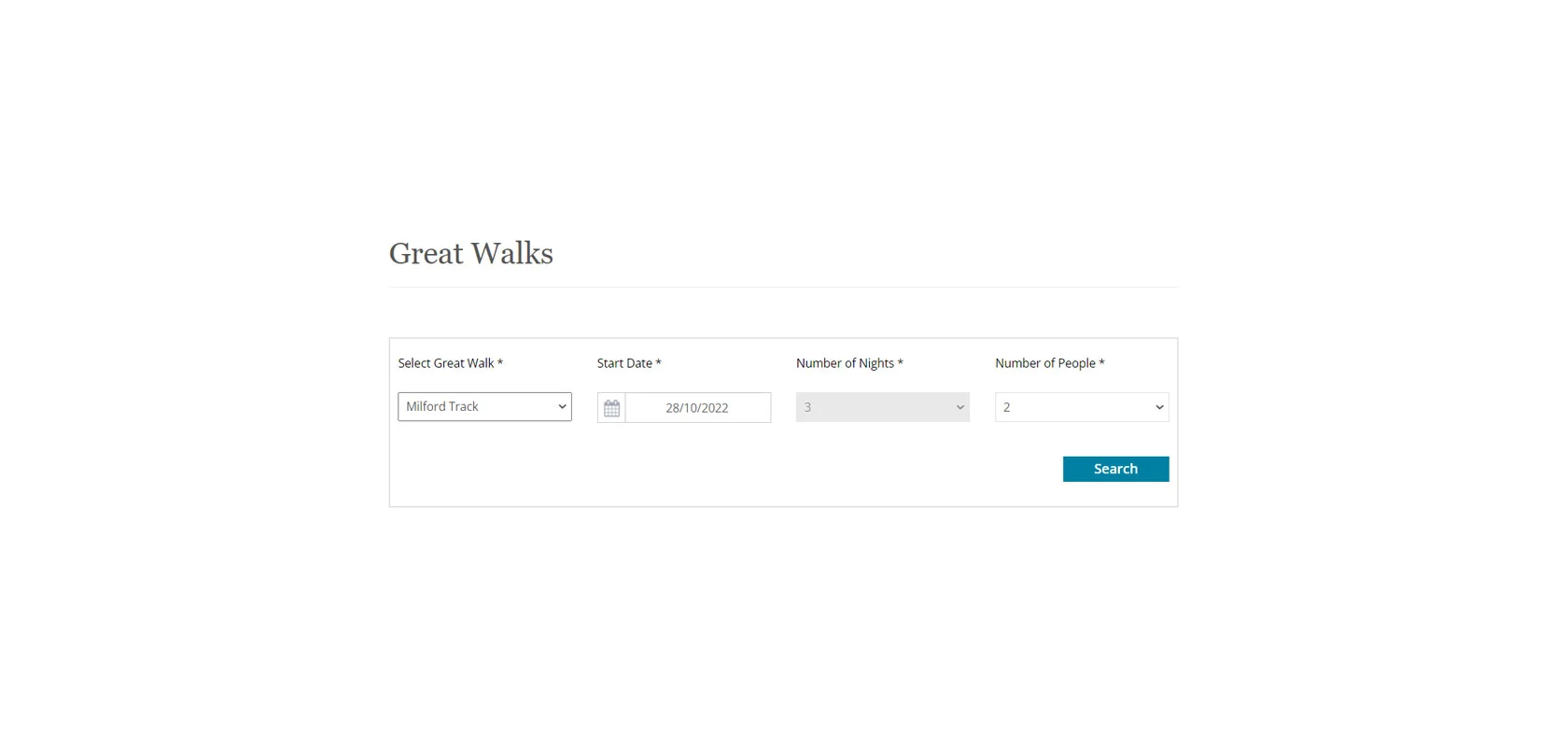 Step 4.
Select your desired first night at Clinton Hut, and the additional hut nights will automatically be selected for you (you have to stay at all three huts). Click on the reserve button.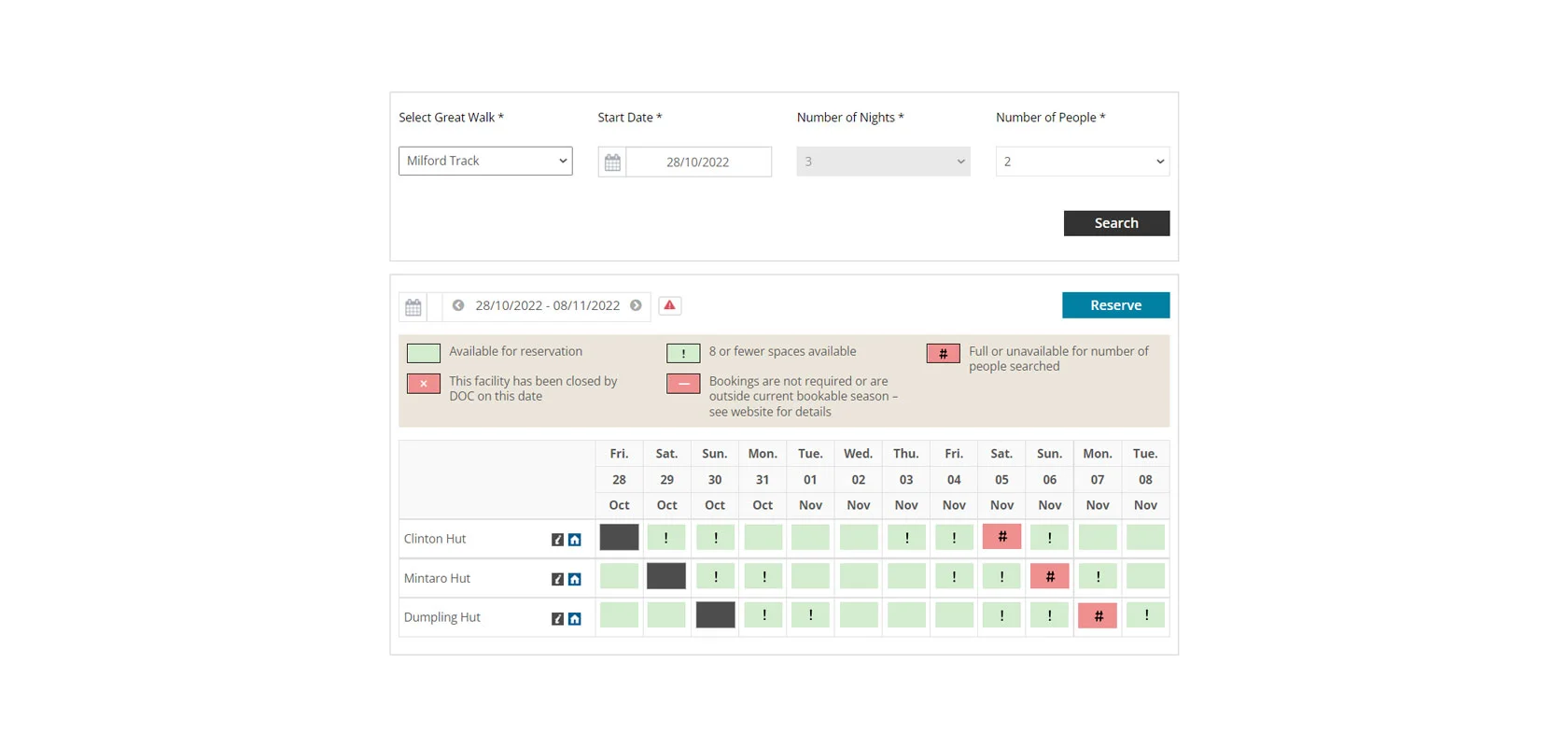 Step 5.
Enter your details and all the details of others in your group - including the first name & last name and select age, nationality, and gender. Save and continue.
TOP TIP: Have all the info ready prepared in one spot (like an email) particularly if you have a few hikers in your group! To save precious time, copy and paste the names of your hikers into the form - way quicker than typing!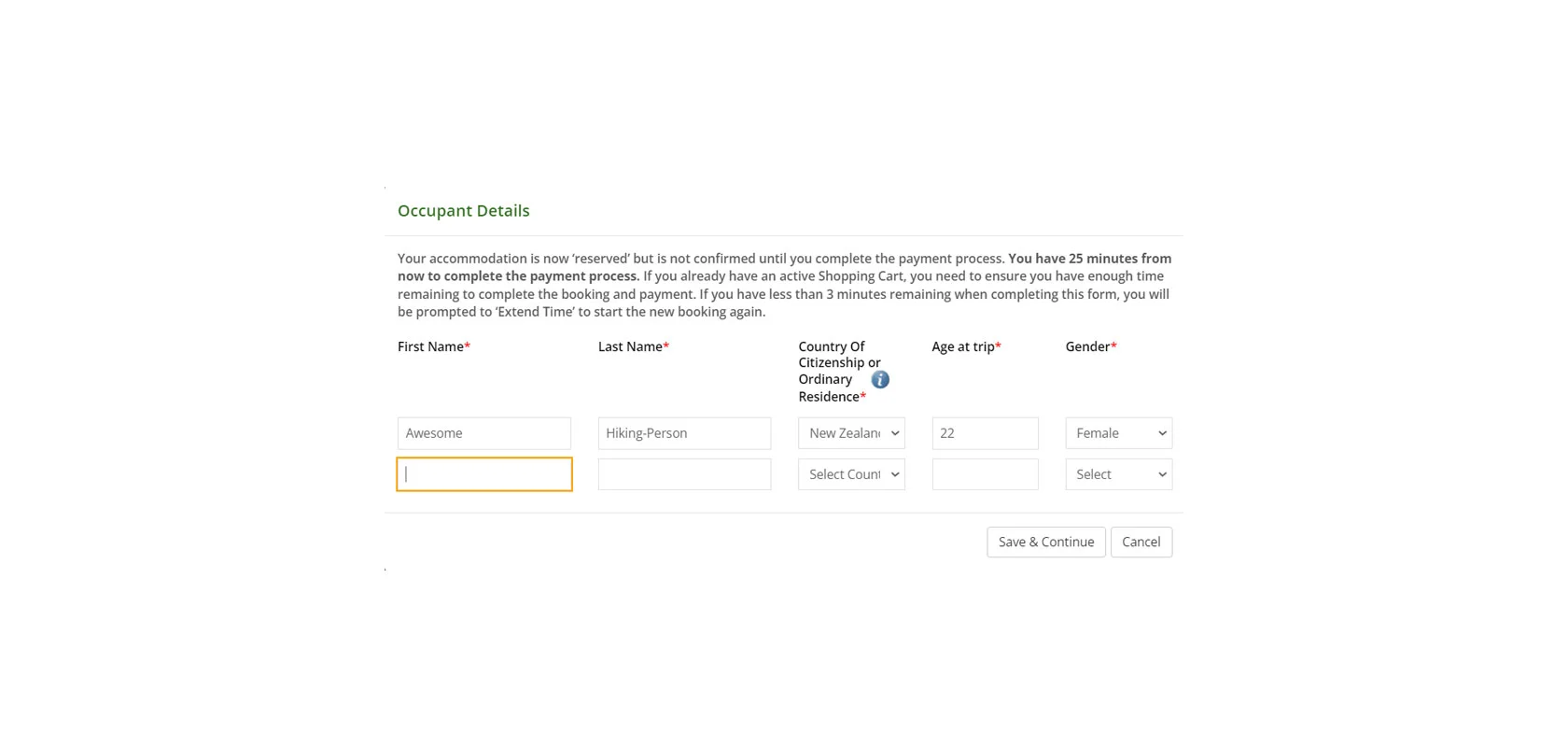 Step 6.
Final check, click on Book Great Walk, and sit back knowing you have reserved a space on one of the most iconic hiking trails in the world.
TOP TIP: If you have selected enough hut spaces, you can edit people's names, ages, etc., later if you have made a mistake. DO NOT go back to edit; otherwise, you may risk losing the spaces.
Step 7.
You now have your hut tickets safely in your shopping cart for 25 minutes. Click on 'Agree to Terms and Conditions' and Go to Checkout to make payment.
Missed out?
You gave it your best shot but there was no green "available" spaces? Remember that unconfirmed bookings get re-opened after 25mins - so keep calm, check your watch and be prepared to try these steps again 25-30mins later.

Why's this? Sometimes groups of keen hikers reserve more dates than they actually need, holding spaces for them and their mates. However they'll only confirm and pay for the "final" dates they really want - meaning any other reserved bunks will be automatically opened, back up into the booking system just 25 minutes later.

Still not finding a bunk? Consider hiking solo - there's often single spaces left amongst the group bookings and it's a great chance to meet some new hiking buddies! Or, perhaps there is an alternative Great Walk adventure awaiting for you this year - we can highly recommend the Routeburn and Kepler Fiordland multi-day hikes!
How to book your Milford Track transport
Once you have booked, paid, and received your confirmation email from DOC you are in! Congratulations! Relax, now all that is left to do is book your track transport.
Fiordland Outdoors Co. offers all transport options from wherever you start your day – Queenstown, Te Anau, or from Te Anau Downs with morning and afternoon water taxi departures from Te Anau Downs to Glade Wharf. Enjoy a 50-minute boat ride on Lake Te Anau, landing at Glade Wharf first, before the last big boatload of hikers arrives for the afternoon.
It's a 1.5-hour walk to Clinton Hut, and if you want to make sure you're not the last to arrive at the hut for the day, the Fiordland Outdoors water taxi is your best bet.
All you need to do is
- Head to our Milford Track transport page to book your group on the date your Milford Track adventure starts.
- Get training, pack, and prepare for your adventure.
- Meet us at your transport starting location on the day
- Easy
We have options to transport hikers from Queenstown or Te Anau, car relocation, bus transfers, etc. You can find everything you need to know about Milford Track transport here.
How can we help?
Our team are Fiordland experts and are on hand to help with all your requests. Did you draw the short straw for organising your group transport arrangements? Don't worry, we can help you figure out the best option.
Contact the team – got some burning questions before booking your tickets or transport?
Have you still got a few questions about the Milford Track, head over to our FAQ blog for more specific track information.