The Milford Track is one of the three Great Walks you will find here in Fiordland National Park. Winding through the Clinton Valley, over the MacKinnon pass before descending into Milford Sound itself. During this four-day backcountry experience, commonly referred to as the finest walk in the world you will see everything from lakes to mountains, waterfalls, and the lush Fiordland rainforest. While the track itself has changed a little from the early 1800s the landscape you traverse remains as wild, beautiful, and captivating as ever.
Are you hiking the Milford Track this season? We have compiled a list of the most frequently asked questions for you.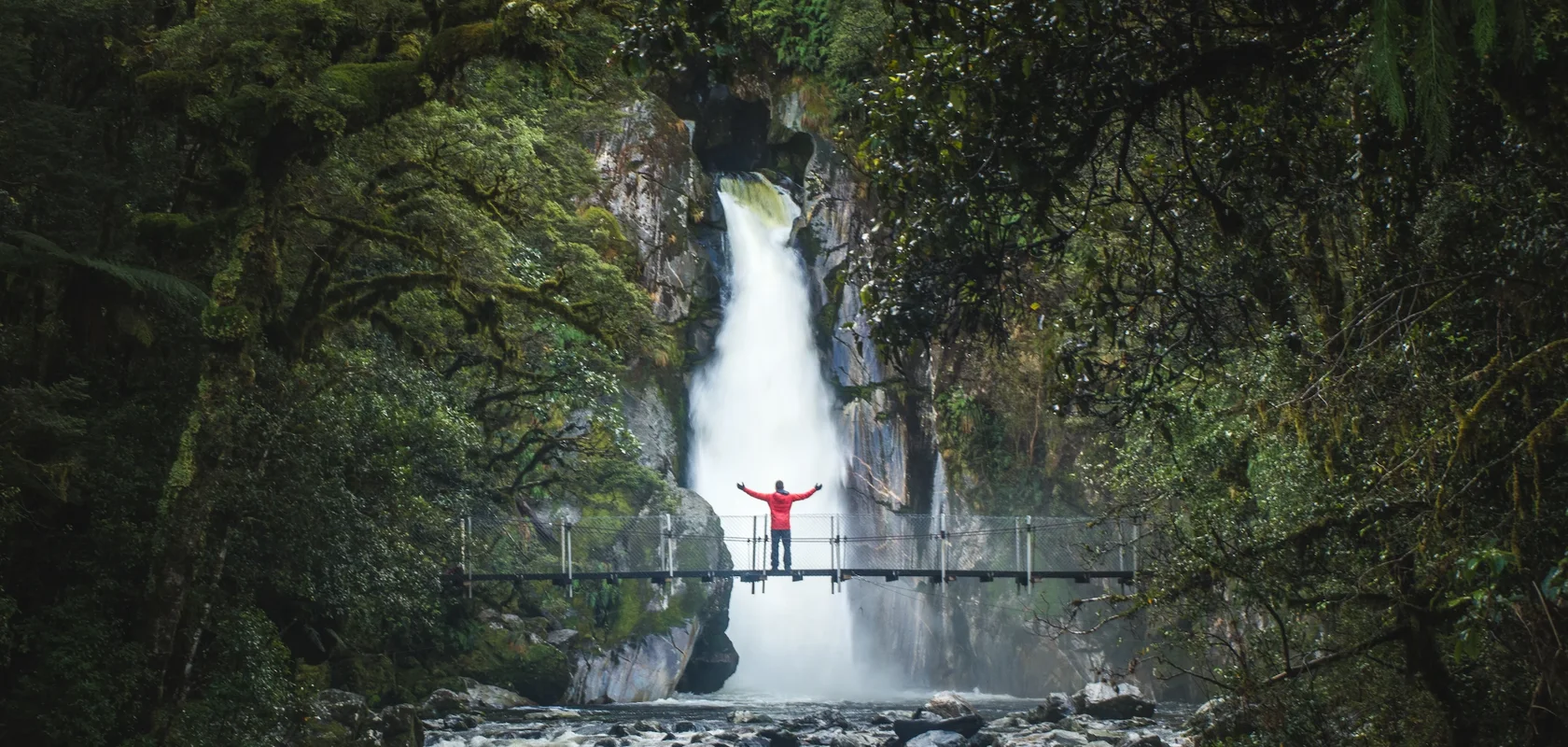 Can you camp on Milford Track?
Camping on the Milford Track is not permitted. There are 3 huts on the Milford Track, which must be booked before you leave Te Anau. Great Walk bookings open in June, you must secure hut tickets if you wish to complete the Milford Track.
Can you do Milford Track in a day?
The Milford Track is a 53.5km long trail passing through valleys, over mountain passes, and winding through the diverse landscape of Fiordland. No, you can't hike the track in a day, the suggested time frame in the Great Walk season is 4 days. We do however offer transport to experienced backcountry trail runners who wish to complete the track in a day, please get in touch with the team directly to explore your options.
Fiordland Outdoors Co also offers day walking on the Milford Track from Sandfly Point to giants gate falls and back for an easy, accessible day hike for all. Head to the link below for more information on Milford Track day walking.
How do I get from Queenstown to Milford Track?
That is where we come in. We offer an easy, all – in one transport package for you and your group. You decide how you want to get to the track and back again and we will make it happen. Options available for bus, plane, car relocation, and water taxi's including large groups and individuals.
How do I get to the start of the Milford Track?
We have a fleet of water taxis in Te Anau and Milford Sound waiting to transport you to your adventure. Get to the track on the first boat and avoid the crowds with Fiordland Outdoors Co.
How hard is the Milford Track?
The Milford Track is a 4-day adventure covering 53.5km's of wild Fiordland National Park terrain. It is classed as a moderately difficult hike that requires a fair level of fitness. We suggest starting your training at least 8 weeks before your departure. The key to being prepared for your Great Walk is all in the preparation, a decent level of fitness, and practice carrying your backpack weight.
How fit do you need to be to do the Milford Track?
The track is very easy to follow, the route is signposted and you will walk on a well-maintained trail for the duration of your adventure. The track is steep in parts and you are required to carry in and out everything you will need for the full four days. This includes your sleeping bag, food, and water. A moderate level of fitness is required to complete the Milford Track. Check out how to prepare for Milford Track
How long does Milford Track take?
The track can only be walked one way and it will take four days, three nights to complete in Great Walks season. Expect to walk long distances each day and a challenging pass on day 3. You will stay in three backcountry huts, Clinton hut, Dumpling Hut, and Mintaro hut before arriving at Sandfly Point where our water taxi and transport will take you back to Milford Sound, Te Anau, or Queenstown.
How many people walk the Milford Track each year?
Approximately 14,000 people walk the Milford Track every year making it one of the most popular hikes to complete in New Zealand. Only 40 independent walkers can start the track each day and tickets sell out in record time each year.
How much does it cost to do the Milford Track?
There are a few costs to consider when hiking the Milford Track. Your hut tickets will depend on your citizenship as international visitors will pay a higher price for the hut tickets. You will need to pay for and bring all your food and consider accommodation at either end of the trail should you wish to stay in Milford Sound or Te Anau longer. Your track transport package will also depend on what you choose, we have options for car relocation, bus and flight transfers. You can explore your options here.
Read more about how to book your hut tickets
Is the Milford Track open?
From late October to April, the Milford Track is open to all great walkers. Huts are serviced, you will find a warden, fresh toilet paper, and cooking gas in the backcountry huts. Off-season hiking is reserved for the experienced only. You will need to contact our team directly to organise any off-season activity.
Is the Milford Track worth it?
100% absolutely, yes! The Milford Track is a stunning four-day hike traversing some of the finest scenes Fiordland National Park has to offer. There is a good reason that this track sells out in record time each year and we highly recommend experiencing it for yourself, we promise it is so worth it.
Check out our transport packages below.